In effort to ease way for bicyclists and pedestrians, two-lane Shelbourne ruled out
May 11 2012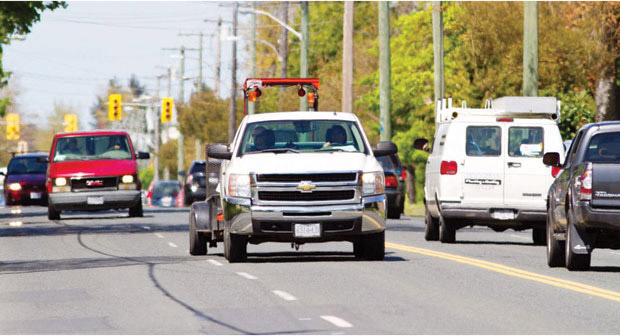 Saanich officials are hearing conflicting views on what changes should be made to Shelbourne Street.
Photograph by:
Darren Stone, Victoria Times Colonist , timescolonist.com May 2012
Traffic is too heavy to reduce Shelbourne Street between North Dairy and Feltham roads to two lanes to ease the way for cyclists and pedestrians, says a consultant working for Saanich. But that doesn't mean improvements such as bike lanes and walkways can't be added.
The consultant, Urban Systems, came up with three concepts, said Harold Stanley, Saanich community planner and Shelbourne Valley Action Plan project manager.
One would stay within the existing right-of-way.
"It looks like we'd be able to implement a
11⁄2-metre cycle track — which would be separated from traffic within the roadway — and then beside that there would be a 11⁄2-metre sidewalk. Then there'd be maybe a half-metre buffer for the existing utility lines," Stanley said.
For the other options, Saanich would acquire land through redevelopment. "We'd be looking at a minimum of two metres for a cycle track, two metres for a sidewalk and then also a buffer between the cycle track and traffic, and the cycle track and pedestrians," Stanley said.
Consultants recommended retaining four lanes between the major intersections at North Dairy, Cedar Hill Cross Road, McKenzie Avenue and Feltham, Stanley said.
"There's a number of reasons. One is just the volume of traffic, which is over 25,000 cars per day."
Going to two lanes would affect B.C. Transit's ability to have frequent transit — buses every four minutes — during rush hour, he said.
The options and recommendations will soon be rolled out at open houses. No decisions have yet been made.
For about three years, Saanich has been looking at a kilometre-wide area along the four-kilometre stretch of Shelbourne between Feltham and North Dairy.
"We're not just looking at Shelbourne Street itself," Stanley said.
"We're also considering the area around it and especially the communities and neighbourhoods that are adjacent to Shelbourne Street."
There are some distinct views among residents of what should happen along the Shelbourne corridor, Mayor Frank Leonard said.
"There certainly has been a split in the community — those who think it should go down to two lanes, or an Esquimalt Road type of thing, and then people who live in Gordon Head saying, 'You've got to be crazy. We need four lanes to get to work in the morning.' "
bcleverley@timescolonist.com
We thought you might also be interested in..