B.C. the first province to team up with fitness group
May 11 2012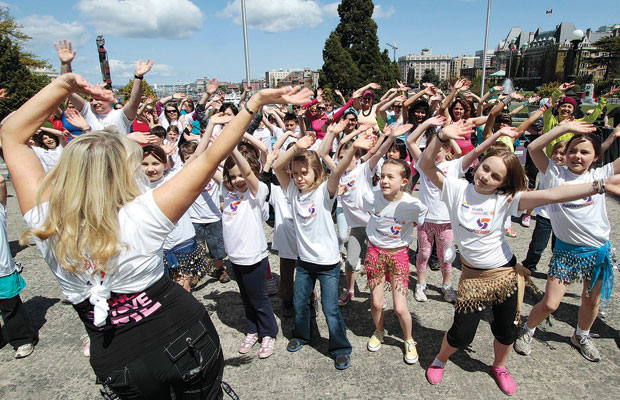 Sir James Douglas Elementary School students show their skills in Zuma, a Latin dance-inspired workout, on the legislature grounds Thursday. It was part of an event to mark the province's partnership with Participaction, which promotes healthy living and physical activity.
Photograph by:
Lyle Stafford , timescolonist.com (May 2012)
Health Minister Mike de Jong led a handful of cabinet ministers and a gaggle of kids from Victoria elementary schools in some lunchtime activities outside the legislature Thursday.
The occasion was a photo-op to mark the province's partnership with ParticipAction, a national non-profit organization that promotes healthy living and physical activity.
"I try to jog and I play hockey," said de Jong between games with the kids.
The provincial partnership is a first for ParticipAction.
"Our vision is to be sure that physical activity is a part of every Canadian's everyday world," said ParticipAction CEO Kelly Murumets. "It will be our plan together to inspire, to support, to encourage every person in B.C., right across this entire province, to get more physically active every day."
As parents of three girls, Melanie Wagganer-Collins said she and her husband try to lead by example.
"My husband bikes to work every day and I tend to do everything on my bike as well," she said. "Riding a bike makes you feel like a kid again - it just feels good."
Sophie Collins, 11, said she likes to get outside and play "because it's fun."
ParticipAction will help plan a social media campaign and work with community groups in the third annual Sports Day in Canada on Sept. 29.
The province is kicking in $6 million for the partnership.
"Unless immediate action are taken today, British Columbia's students may be the first generation to have a shorter lifespan than their parents," said de Jong in a statement.
"Physical activity is one way to combat obesity and increase life expectancy and that is why we are bringing ParticipAction to B.C."
Physical activity helps prevent chronic diseases like various forms of cancer, type 2 diabetes and heart disease.
Obesity-related illnesses cost the B.C. health system an estimated $380 million annually, or 4.5 per cent of total direct health-care costs in the province.
smcculloch@timescolonist.com
We thought you might also be interested in..