Urban race aims to foster extreme pride
May 11 2012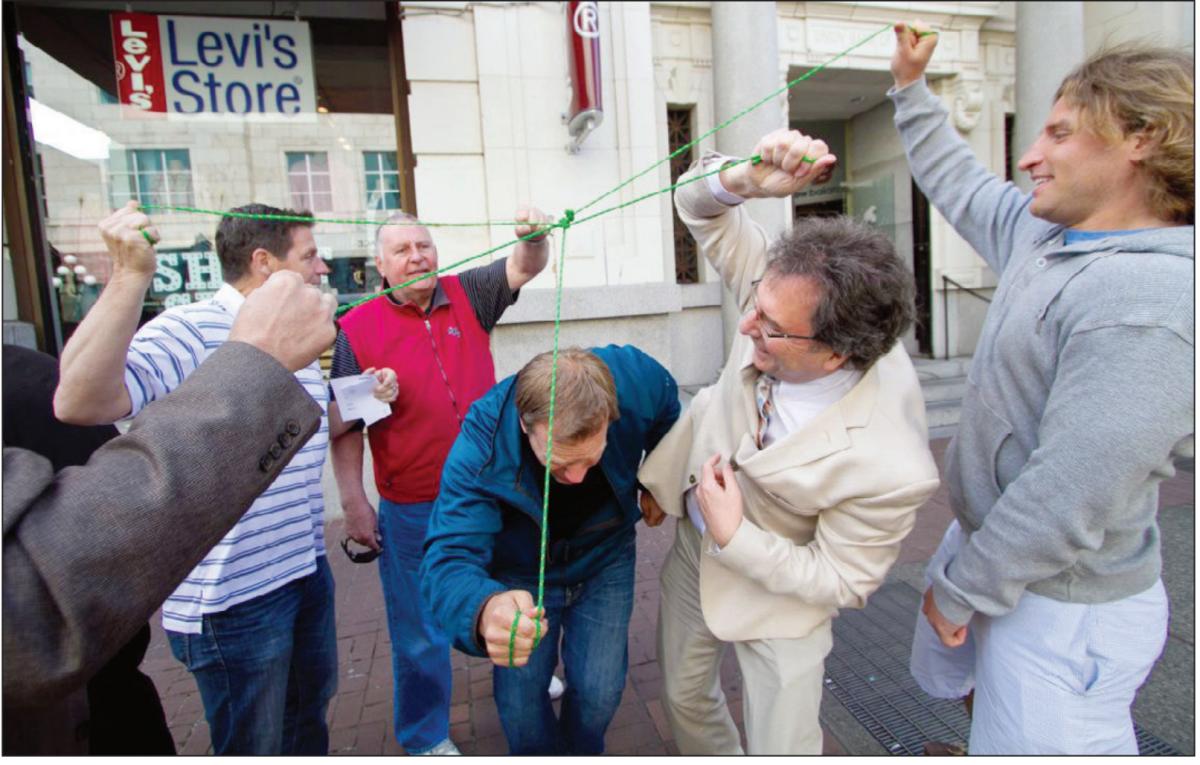 Doug Tate, Rick Farrally, Shane Thompson, Ken Kelly and Adam Kleeberger compete in the Chaos Rope Challenge to launch Urbacity on Thursday. The strategic adventure race takes place on June 10.
Photograph by:
Darren Stone, Times Colonist , Times Colonist
The Victoria UrbaCity Challenge is back June 10 for a second year of testing participants' mental and physical fitness on downtown streets.
Last year, 200 two-person teams participated in the race, bringing in $15,000 for the B.C. Cancer Foundation. This year's charity of choice is the Prostate Centre, and organizer Tami Tate said she is hoping for a big increase in both funds raised and participation.
At a kick-off event held Thursday at New Balance Victoria, store owner Rob Reid talked about the need for "urbacity" - or "extreme pride in your city" - and the positive effect of community activity.
"The more events we can have in our city, that's what makes Victoria strong," he said.
Duff Lang, from lead sponsor Maximus, said getting as many people as possible involved in the UrbaCity Challenge is important.
"It never ceases to amaze me what a beautiful city we have and how friendly it is for business, for citizens and for living, and we want to try to showcase that. We want to give the businesses downtown, like ourselves, the opportunity to actively engage in the event."
During Thursday's event, guests took part in a drill that saw teams twisting and untwisting ropes.
Tate said the task was typical of what participants might encounter at checkpoints during the actual competition.
"Last year, you had to do a volleyball-serving contest on the Rooftop at the Strathcona, you had to make paper airplanes where your partner and you could only use one hand to do it, and Bernard Callebaut did chocolate-melting where you had to melt the chocolate using your own body heat."
Tate said that the concept for the UrbaCity Challenge was developed with former Parksville resident Alan Bishop, who has produced challenges for reality television shows Survivor and The Amazing Race.
This year's version has been refined to include three race categories - Ultra Racer Zone, Brawn Zone and Brain Zone - with all categories calling for racers to compile points within four hours.
The UrbaCity Challenge begins at 10 a.m. at the Saveon-Foods Memorial Centre.
Registration is $125 per team.
jwbell@timescolonist.com
> On the web: urbacitychallenge.com
We thought you might also be interested in..