Unhip square stuck with stucco
May 12 2012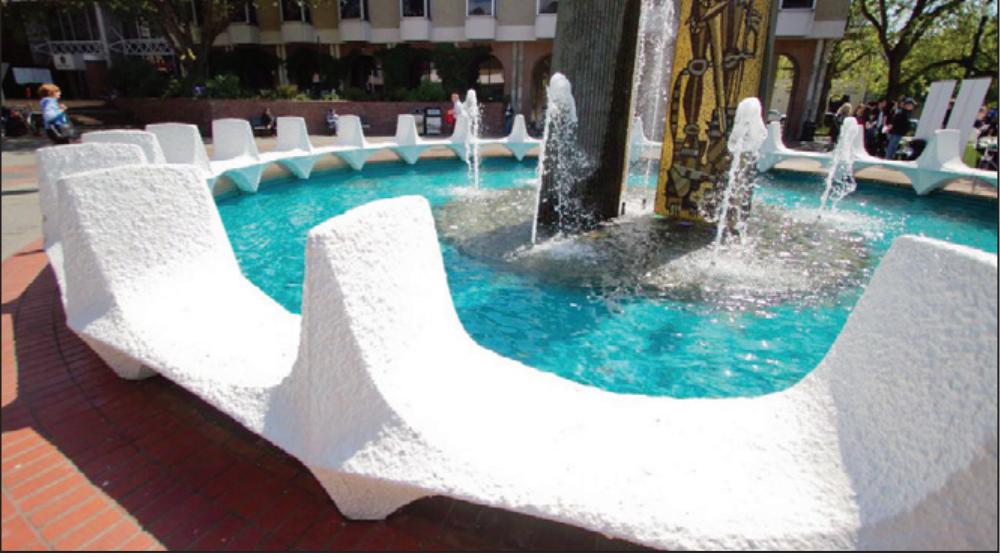 Centennial Square fountain: stucco added in the 1970s.
Photograph by:
Darren Stone, Times Colonist , Times Colonist
It was 1968 and Victoria councillor Robert Baird was bemoaning the fact that he couldn't have the hippies hanging around Centennial Square publicly whipped.
They were viewed as such a problem that the city coated the square's fountain with a stucco finish in the 1970s to make sitting on it uncomfortable.
It was a huge mistake, says current Victoria Coun. Pam Madoff.
"It wasn't done for maintenance or any other reason. It was done to stop 'those people' - those hippies with their acoustic guitars and Greek sandals - to stop them from sitting there," Madoff says.
It's no longer the hippies hanging around the square, but their kids and their grandkids. As long as they're not camping there, they're no longer seen by the city as a problem.
The square and its fountain were designed and built between 1962 and 1965 to celebrate the city's centennial. Madoff had hoped the city would free up enough cash to get rid of the stucco as part of this year's 150th anniversary celebrations.
About $75,000 was budgeted for fountain repairs, but that isn't enough to return the fountain base to its original finish. "So rather than doing the recasting, we're going to use that money for other repairs to the structure," says director of engineering Dwayne Kalynchuk.
"We're just going to clean it up, patch it and leave it that way, as is, for now."
Madoff, who is helping to write a book on city hall for the 150th anniversary, hopes work goes ahead to make the fountain more of a people place.
"I hope that there will be interest in it, because I think it's one of the things that can really serve to continue to animate the square. People want to sit next to the fountain, and unless you bring a rubber doughnut [cushion], it's not very comfy."
bcleverley@timescolonist.com
We thought you might also be interested in..