Kids know what they want
May 13 2012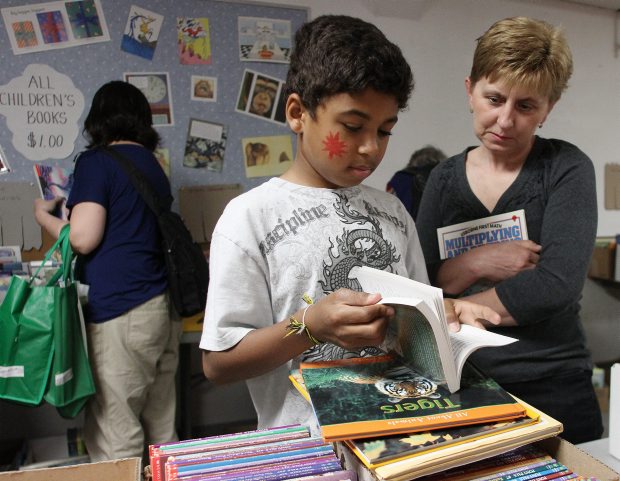 Damian Hliwa (left), 11, and his mother Yolanda check out some of the books during the TC book sale at the Victoria Curling Club.
Photograph by:
Adrian Lam , timescolonist.com (May 2012)
Alison Chapeskie, 20, sat on the asphalt outside the Victoria Curling Club on Saturday thumbing through some of the 40 novels she picked up at the Times Colonist Book Sale.
Just inside the double doors, a horde of people rummaged through tens of thousands of used books as the rink was transformed into a warehouse for the weekend.
The annual two-day sale, which raises money for schools and literacy programs in the region, regularly attracts thousands of readers and book dealers.
"We love books," said Peggy Chapeskie, Alison's mother. "It seems you have to keep going out and buying new bookshelves because they keep filling up."
A steady parade of bargain hunters passed by Peggy and her daughters as they waited for Dad to pick them up. The happy customers lugged their books away in bags, boxes or totes, depending on the size of their purchase. Some big spenders needed dollies to wheel out their stacks.
When site co-ordinator Bob Taylor arrived at 6: 30 a.m., the lineup for the book sale had already wrapped around the block.
Many shoppers waited in line for hours until the 9 a.m. opening. Some came armed with blankets and folding chairs. Others just showed up in street clothes.
"I'm warm-blooded anyway," shrugged Victoria's Dave Gellatly, who queued up at 3: 30 a.m., hoping to get first crack at the sports books.
Most of the first people through the doors - there were 3,800 in all - went straight for the special section, where select books are priced higher than the regular rates of $1 and $2.
An entire collection of Charles Dickens's novels was listed at $60.
Dave Ward was shopping with his 16-year-old son, Jake, when Dave found books from Graeme Base, his favourite children's author.
"It's not so much the stories, but the art," he said of his interest in children's books. "[Base] has done quite a few different stories. He does such detailed work."
The children's section was the most popular throughout the day, with volunteers restocking the tables throughout the day.
Fantasy novels - including the Harry Potter series - were hot sellers this year, as was the classic Hardy Boys detective series.
"This is the busy section," said volunteer Penny Heath. "The kids, they come in, they know what they want and they just grab it."
Angie Gray was shopping for her daughter Briar, 5, and her son Caleb, 4.
The annual book sale, now in its 15th year, gives parents like Gray the best deals on literature.
"We're looking for books to get us through the summer," Gray said of her avid readers. "It gives us an opportunity to get titles we've never seen before.
It's a great way to extend the home library."
The deals are also rewarding for owners of used bookstores. One dealer estimated he would spend about $16,000 on Saturday. In previous years, he spent up to $22,000
Andrena Blair drove from Kamloops to restock the shelves of her bookstore. Andrena's Book Company has been operating 10 years and the owner has made the trip to Victoria for the sale five times.
Last year, she spent $2,800 and she anticipated spending about $1,600 this weekend.
"I wasn't sure if it would be worth it coming over with the ferry and everything at first, but it really is," Blair said.
Blair said she would grab as many copies as she can from authors like Bernard Cornwell, knowing they will sell quickly.
Despite Saturday's rush of book buyers, who spent about $90,000, there are still plenty of great books for sale. Bob Woodrow, a book drive organizer who has been involved since the first sale in 1998, said that thousands of gems are still on the tables.
It's the same story as in past years.
"We don't get as many people on Sundays, which means it is easier for everyone to search through the books," Woodrow said. "And every year, Sunday shoppers find real treasures."
Browsing will be easy today, he said, because book lovers will be able to check through entire sections, something not always possible in the scramble on Saturdays.
The book sale has had several homes over the years, but the curling club has been the perfect fit, Taylor said.
"They have been very good to us here. We are treated very well. And this is a great space for us."
dspalding@timescolonist.com
We thought you might also be interested in..