St. John's sock hop is just Divine
May 13 2012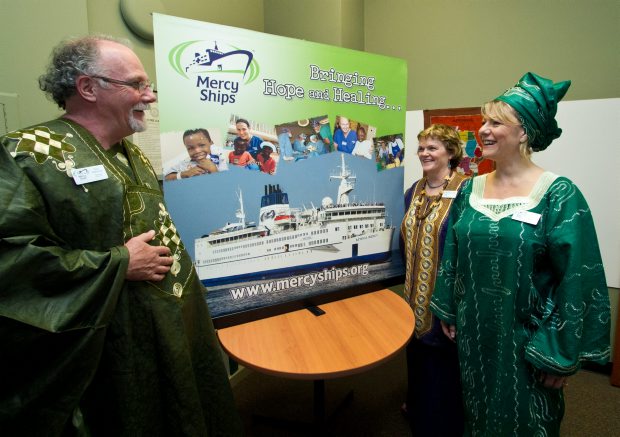 Tim Maloney, Lorraine McDonald and Maria Manna dressed in African outfits for a fundraising lunch at the Victoria office of Mercy Ships, a non-governmental ship-based medical organization. Money raised will go toward its Mothers in May effort to fund women's surgeries in West Africa.
Photograph by:
Darren Stone , timescolonist.com (May 2012)
The third annual "Divine" Sock Hop is on its way.
The first two sock hops, held at St. John the Divine Church hall, were sellouts and raised almost $10,000 for the church's food-service and shelter programs. The programs help the poor and homeless in the downtown area.
The third sock hop is set for 7 p.m. on May 26, and organizers are still looking for items for the live and silent auctions. Tickets cost $20 and are available at the church office (1611 Quadra St.) or by calling 2505926807.
The band Rukus will provide live music.
John Sylwester, who coordinates volunteers in the food-service program, said the initiative began in the mid-1990s as a temporary measure, but the need has continued to grow. It is essentially a food bank, open most Tuesdays and Fridays for two hours.
St. John the Divine supplies most of the funding, but also receives support from individuals, other churches and community organizations.
Sylwester said use of the food service has jumped lately. "The number of clients from January to March 2012 was almost 1,400, which was over a 17 per cent increase from last year," he said. "Most of the people that come are single but there are some representing families."
STUDENTS GIVE CASH TO CHARITIES
Young people have once again delved into the world of philanthropy, thanks to the Victoria Foundation.
Students from seven high schools took part in the foundation's annual Vital Youth program, which provided each group with $2,500 to distribute to federally registered charities operating on Vancouver Island.
The students looked into various organizations before committing their funds and made use of research tools including the foundation's Vital Signs report, an annual quality-oflife survey that considers issues such as housing, the environment and transportation.
Belmont, Frances Kelsey, Oak Bay, Reynolds, St. Michaels, Stelly's and Victoria were the schools involved this year.
The program, which was originally called Youth in Philanthropy, has grown steadily since 2003 when it started with just three schools.
This year, Oak Bay and Reynolds gave all of their funds to a single charity - the PEERS Victoria Resource Centre and the Victoria Integration Society, respectively - while others chose to give to as many as five. Overall, 18 local charities received funds.
Oak Bay student Bree Neale, who spoke at the final event, called Vital Youth "a one-of-a-kind program" that allows participants to get directly involved in the community - and to make a difference.
Financial backing for the Vital Youth program came from the Honorary Governors' Millennium Fund, the Saanich Peninsula Foundation Fund, the Victoria Foundation Vital Youth Program Fund and an anonymous donor.
SETTING SAIL ON THE BIG BIKE
The Spirit of the Atrium - B.C. Ferries' entry in the annual Heart and Stroke Foundation Big Bike campaign - is staging a Monday-to-Friday penny drive to help its fundraising efforts.
The Ferries team is one of more than 40 that will be raising money, then hopping on the 30-seat big bike for a celebratory ride through downtown.
The penny drive will be held at the Atrium, the office complex that houses B.C. Ferries' offices.
All of the businesses that ring the building's namesake atrium will be taking part, collecting not only pennies but larger donations as well.
Big bike teams will be taking their rides on June 4, 5 and 7.
The fundraising goal is $200,000.
For more details, call Jeremy Loveday at 2503824035.
ISLANDER WINS NATIONAL AWARD
A Vancouver Island resident has been named national employee of the year by CNIB, formerly known as the Canadian National Institute for the Blind.
Evaleen Baker, who lives in Parksville and works with low-vision clients, is a deserving recipient, said Alan Corbould, CNIB's Vancouver Island manager.
"They've never done a national award before. It's right across Canada and she's the winner."
jwbell@timescolonist.com
We thought you might also be interested in..