Hidden gems discovered Sunday at Times Colonist Book Sale; event continues till 5 p.m. at Victoria Curling Club
May 14 2012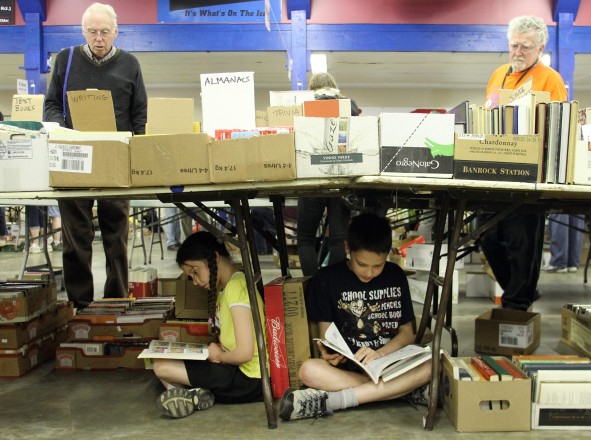 Briana, 8, and her brother Alex Wright, 11, find a comfortable place to read during the Times Colonist Book Sale at the Victoria Curling Club on Sunday, May 13, 2012.
Photograph by:
Adrian Lam , timescolonist.com
For Robyn Wharram, the Times Colonist Book Sale looked like just another failed effort to pick up a used copy of Even Cowgirls Get the Blues.
Wharram was one of about 3,500 people who combined spent a total of $107,000 at the annual book sale on Saturday. But after eight years of searching used bookshops, she still could not find a copy of the 1976 novel by Tom Robbins.
Wharram lost her copy when an old roommate "mistakenly" thought the book was hers as the two branched out on their own. Wharram has been hunting for another one ever since.
She waited in line at the Times Colonist book sale on Saturday morning, searched almost everywhere inside the Victoria Curling Club, but once again — nothing.
Wharram returned to the sale on Sunday and, with another stack of books in her arms, waited for her mother, Jean Screech, to finish shopping. By chance, she looked down at a box on the floor. There it was.
"It's proof you can come on Sunday afternoon and still find good stuff," Wharram said. "For the past six or seven book sales, I've looked for it. I go into secondhand book stores looking for it. And here it is."
Similar sentiments were shared by some of the 1,500 people who visited the rink Sunday morning by noon. There were treasures to be had.
Gail and Gary Sehorn spent about $70 between the two of them. Vacationing from Portland, Oregon, they had read about the sale in Saturday's Times Colonist. They read about it again in Sunday's edition and could not pass up the opportunity.
"We're bookaholics, so finding this in the newspaper was awesome," Gail said, looking down at the box of books.
She found a copy of Wendell Berry's A Place on Earth. There were other books from this author, but Gail already has copies at home.
"Unfortunately, I spent a lot more than two bucks on it. So had I known …," she said about the low prices at the Times Colonist sale, which ranged from $1 for children's books and paperbacks, $2 for soft covers and $3 for hardcovers.
The Times Colonist Book Sale has raised $1.5 million for literacy programs since its inception in 1998 and is part of the national Raise-a-Reader campaign.
Money raised stays within the community and is matched by funding from the provincial government.
Sundays are great opportunities for people to shop without the massive crowds that show up the day before, many visitors said. And with so many books, the sale could last much longer.
"The reality is we could have our book sale for two weeks, never mind two days," said the Times Colonist's Shannon Kowalko. "We have that many books."
The sale continues at 1952 Quadra Street until about 5 p.m. today.
dspalding@timescolonist.com
We thought you might also be interested in..