Suicide spike linked to Cowichan Tribes' 85 per cent unemployment rate say Tribe officials
May 15 2012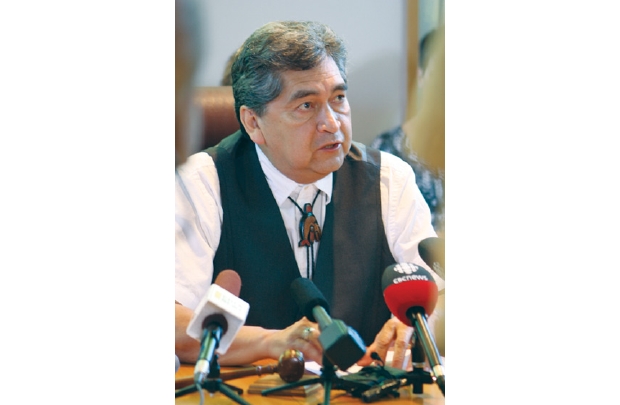 Cowichan Tribes Chief Harvey Alphonse speaks with media Monday morning about the First Nation's move to call a state of emergency due to a recent spike in suicides
Photograph by:
Sarah Simpson , Cowichan Valley Citizen (May 14, 2012)
DUNCAN — The largest Aboriginal community in B.C., with a population of 4,500, Cowichan Tribes suffers from an unemployment rate around 85 per cent, and that may be a key factor in the community's recent cluster of suicide attempts, according to Tribes officials.
"To me there is a sense of hopelessness. It seems that we're in a time where I guess the economy is difficult, there's high unemployment and many of the inherent rights that we know of are being eroded, for example our hunting rights, our fishing rights," Chief Harvey Alphonse said Monday. "There is some hope. We are working hard to create some employment through economic development."
There have been 52 suicide alerts between January and May this year. Four - including two Cowichan Tribes staff members - were successful in ending their own lives.
"We are losing our most valuable resources - our children and our caregivers," Alphonse said. What's frightening, he said, is those are only the documented cases. He knows there are more out there struggling in silence.
"There are a number of undocumented alerts that the general manager and I have personally dealt with. Furthermore, youth reach out to one another and support one another through tough times," he said. "These peer interventions also go undocumented."
Alphonse said while he believes the suicides may be connected in a way, he thinks they are more reactionary than some type of pact.
"There is in some way a link but not in the sense where it would be pre-planned," he said. The chief said one thing he doesn't believe has played a role in the increasing numbers of suicide attempts by the First Nation's young people is the recent murder of Tyeshia Jones.
"I don't believe there is a connection," he said. "I believe the tragic event that occurred has had an impact on our community. It is difficult. It is hard on families. We've encouraged our family members to reach out, especially to the professional people like at the health centre," he said. "But it's not the reason people are considering suicide. I believe that it is separate."
Elder Luschiim, Arvid Charlie, a Cowichan Tribes councillor, said more dollars are needed to implement programs to prevent suicide from being considered as an option.
"Different ways to keep our children busy so there's no time to be just doing nothing," he said. What's more, Charlie said the community needs to be empowered, not made to feel inferior, which only adds to feelings of hopelessness.
"From the time our great grandparents were taken away to residential school...we were made to believe we weren't good enough to look after our own children," he said. "That is still happening today. Some of our children have been taken away, enforced by the ministry and the RCMP, which leads to hopelessness."
He said he knows one young man took his own life because he wasn't permitted to see his children anymore. "He wasn't even allowed to visit them. That was really hopelessness for him."
Charlie also said now it is more important than ever to preserve the community's cultural beliefs and practices.
"Over the last century and a half, two centuries, our language has been taken away from us. For some it was beat out of them and along with it went the snuw'e'yulh, or the teachings," he said. "We need resources to help bring back our Hul'qumi'num, our native language and along with that will come the snuw'e'yulh, the teachings, which includes living, living life to the fullest and not to take your own life."
Cowichan Tribes members in crisis can call the 24-hour Cowichan help line at 250-748-1133 or Ts'ewulhtun Health Centre at 250-746-6184 and ask for the person on call.
We thought you might also be interested in..
Notice
: Undefined index: event in
/home/viccity/public_html/v2/content.php
on line
67