Jack Knox: Your donations to Times Colonist Book Sale rocked
May 15 2012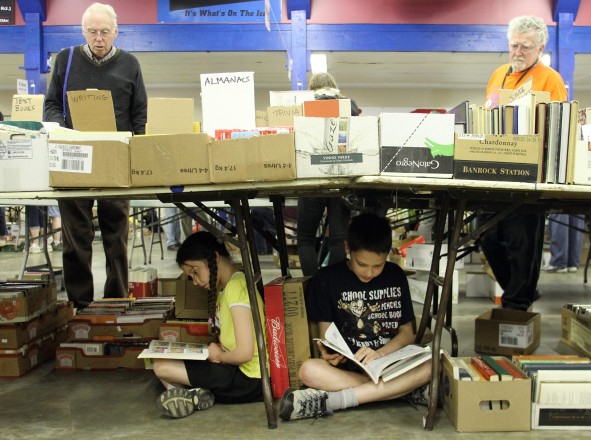 Briana, 8, and her brother Alex Wright, 11, find a comfortable place to read during the Times Colonist Book Sale at the Victoria Curling Club on Sunday, May 13, 2012.
Photograph by:
Adrian Lam , timescolonist.com
Other teachers couldn't believe it when Joyce Moreau staggered back to Oak Bay High after picking through the book sale leftovers Monday.
Among her treasures: 60 hardcovers of The Da Vinci Code, a couple of classrooms' worth. Bought new, they would have gone for $2,480, but all it cost Moreau was time as she patiently, patiently, patiently mined for literary gold among the hundreds of boxes of unsold volumes.
Pardon the ghastly analogy, but the Times Colonist Book Sale is like a slaughterhouse that prides itself on using every bit of the cow except the moo. Nothing goes to waste.
Cube vans lined the Victoria Curling Club parking lot Monday as non-profit groups, everyone from schools and the St. Vincent de Paul Society to hospitals and churches, took their pick of the books that didn't sell on the weekend. Anything left after that will be sold to a wholesaler.
The scene was, if you'll excuse the apparent oxymoron, quietly festive as charities' envoys beavered away. Lon Wood, a former Times Colonist city editor and columnist, was there in search of paperbacks for Our Place - John Grisham, Stephen King, Wilbur Smith, Sidney Sheldon, the standard gazillion-seller fare. He said the non-profit crowd kept an eye out for each other's wants: spot a history of the Royal Air Force, holler for the guy from the aviation museum.
Don't know if anyone did better than Moreau, the teacher-librarian at Oak Bay.
Not only did she scoop up Monday's freebies, but she got terrific value on the weekend, buying more than 750 books for just $1,556 - using money from last year's book sale to refresh the high school's shelves.
Schools that get bookdrive grants have different priorities - literacy-testing tools, say, or ESL-specific works. Others just need to update the library collection, adding more relevant titles or replacing the popular ones that tend to get read to death.
This year, Oak Bay High got a $2,300 grant, of which $800 went to special education. Moreau decided to make the rest of the cheque stretch, so she went shopping at the Times Colonist sale, where almost all books sell for $1, $2 or $3. "I am frugal," she says. She also knows it takes access to a wide variety of books to find the one that will trigger a lifelong love of literature. "I hated reading as a kid."
Assisted by two young book sale volunteers, Lorraine Martin and Dally Dhillon, Moreau dug through the boxes from 9 a.m. to 5 p.m. both Saturday and Sunday, walking away with such gems as A Thousand Splendid Suns, The Time Traveler's Wife, Memoirs of a Geisha, Life of Pi, Water For Elephants. ... She used a handheld electronic device to ascertain which titles were already in the school system's collection and therefore classroom appropriate.
It wasn't just the school's library that benefited.
Moreau pieced together maybe six sets of entire series of books, enough so that the school's English teachers won't have to wait in line for them. A half dozen boxes of cookbooks are destined for the home economics department.
She wasn't the only one to find treasures at this year's sale. I squealed like Bill Clinton at Intern Appreciate Nite when a volunteer presented me with Herbie!, a collection of Bing Coughlin's wartime Canadian Army cartoons, the same ones my dad brought back from Europe in 1945.
Some stuff might have been donated to the sale by accident. We have the Second World War log book of an RCAF pilot named J.W.
McLagan. And Marsha Birney, the volunteer who looks after the food section, wonders if someone really wanted to give up a beautifully crafted, hand-lettered cookbook decorated with family photos.
---
It has been said I have a face made for radio and a voice for newspapers. You can judge for yourself this Saturday, May 19, when I join a few other media types - CHEK's Vee Cooper, the Ocean's Michael Forbes and Lisa Marshall, Shaw's Karen Elgersma, CTV Vancouver Island's Adam Sawatsky, CFAX's Al Ferraby - on stage at the Langham Court Theatre.
You Can't Take It With You, an old-fashioned radio play directed by Barry Bowman, is a fundraiser for the Victoria Target Theatre Society. Call 250-590-6291 for info.
jknox@timescolonist.com
We thought you might also be interested in..