Cowichan Tribes declare emergency over rash of suicides, ask for help
May 15 2012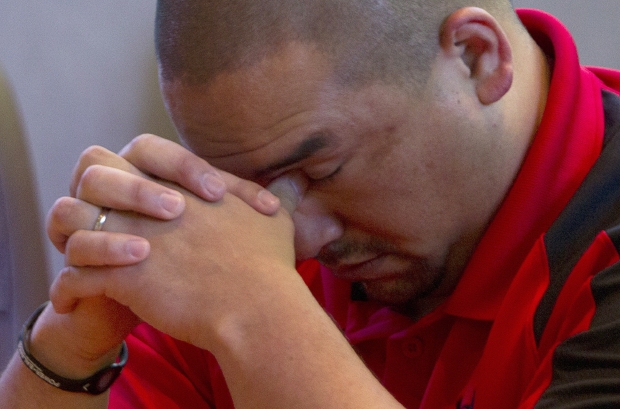 Cowichan council member Chuck Seymour pauses for a moment during a news conference in the Cowichan First Nation at Duncan on Monday. The Cowichan Tribes declared a state of emergency due to the recent spike in suicides and suicide attempts in their community.
Photograph by:
Jonathan Hayward, The Canadian Press , timescolonist.com May 14, 2012
The Cowichan Tribes First Nations administration declared a local state of emergency Monday, following four incidences of suicide and 57 suicide threats since January, and now Chief Harvey Alphonse is calling for help from the provincial and federal governments.
The Cowichan Tribes — with 4,500 members, the largest aboriginal community in B.C. — have been deeply impacted by the suicides and their counselling staff are overwhelmed, Alphonse said.
"There's a three-week waiting period for people waiting for assistance," said Alphonse, adding that wait is longer for some when urgent cases are pushed to the front.
The long wait to talk to trained counsellors "adds fuel to the fire and there's a sense of hopelessness," he said.
The tribes, located in and around the Cowichan Valley and Duncan, are calling for help from the federal and provincial governments to fund additional counsellors and other professionals to address the spike in suicides.
The root causes of suicide on reserve include poverty where, in one case, 19 people are living in a three-bedroom house, Alphonse said. Aboriginal students drop out of school because they feel marginalized, and then their lack of education means they can't find work.
Band members have an unemployment rate of 85 per cent, Alphonse said.
A sad history that includes sexual abuse at residential schools makes turning things around even more challenging, he added.
Nanaimo-Cowichan NDP MP Jean Crowder, speaking by phone from Ottawa, said she is well aware of the suicide problem and attributes the cause in part to "unbelievable" poverty: "It's pretty hopeless when you look around and realize you don't have the education to get jobs.
"Then you've got an Indian Act that continues to be paternalistic, saying Father knows best. It's not a surprise that the suicide rates are so high. What is a surprise is the lack of action."
Families need to be educated on the warning signs for suicide, she said.
"It's a tragedy for the community, but it's a real tragedy for the families. When somebody has lost a family member to suicide, where is the help for that family to cope with it?"
Ian Knipe, director of aboriginal health for the Vancouver Island Health Authority, said provincial help is available, even though the federal government takes the lead on aboriginal health care.
"We're deeply concerned about the number of suicides and discussion of suicides that the Cowichan Tribes has articulated," said Knipe, adding that VIHA is working with the tribes to determine how best to proceed.
Cpl. Kevin Day of Duncan/North Cowichan RCMP said police want to help find a solution. "We certainly, as the RCMP, are here to lend a hand any way we can," Day said.
smcculloch@timescolonist.com
We thought you might also be interested in..
Notice
: Undefined index: event in
/home/viccity/public_html/v2/content.php
on line
67