Police tag teen, ending rash of car break-ins
May 16 2012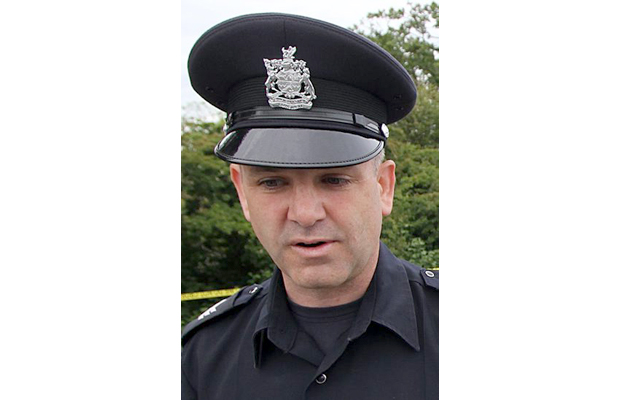 Sgt. Dean Jantzen: "significant achievement."
Photograph by:
Adrian Lam , timescolonist.com (May 2012)
Saanich police say they may have ended a one-person crime spree with the arrest of a 16-year-old.
Last week, police reported a rash of 32 car break-ins since the start of the month. Since the teen's arrest early Friday, only two have been reported in the municipality.
"It's a significant achievement for our patrol division members, who really focused their attention on this one individual," said police spokesman Sgt. Dean Jantzen.
The youth was arrested in the early hours after an officer spotted him walking on Blenkinsop Road. Jantzen said the officer recognized the teen from surveillance footage from one offence.
"He was wearing quite a distinct puffy jacket," Jantzen said. "He was quickly contacted by our patrol officer and by our dog handler."
The youth was in possession of a couple of knives, including a multi-tool. He also had a number of felt-tipped markers, often used in tagging.
Typical items taken from vehicles included change, small electronics, sunglasses and GPS units. On one occasion, a set of golf clubs was taken and a wallet was stolen.
Jantzen said the Saanich resident is well known to police and has had more than 200 contacts with local agencies.
He was taken into custody on the strength of outstanding warrants. Police are working to determine what other charges can be laid.
"We're hopeful we will now see significant decline in these [thefts] as we move forward into the summer months," Jantzen said
None of the stolen goods has been recovered. Jantzen said such items are typically traded or sold.
"It's not very often we actually recover the small items," he said.
Meanwhile, Saanich police are appealing for help from the public after two police cruisers were tagged Saturday evening. Jantzen could not describe the tags, as they were done with a marker and the officers were able to wipe them off.
He said police suspect the tagging happened while the vehicles were out on a call, likely in a house-party situation where cars are left unattended for a period of time.
"We would like to put the call out that if anyone does know anything about two of our police vehicles getting tagged, we would encourage them to get in touch with us."
bcleverley@timescolonist.com
We thought you might also be interested in..