At 35, woman is given voice and 'freedom' with technology
May 16 2012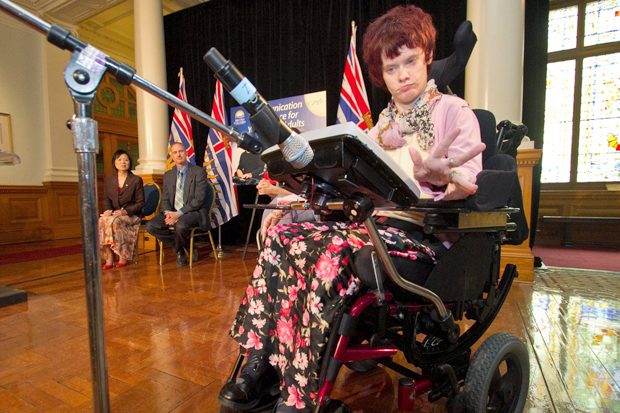 April Proudlove speaks through a Vanguard communication device at the legislature Tuesday.
Photograph by:
Darren Stone , timescolonist.com (May 2012)
April Proudlove's voice may be stilled by cerebral palsy, but she is able to make herself heard.
She uses a Vanguard, one of many types of devices that have been distributed around the province by the Communication Assistance for Youth and Adults project.
Its clients are people who are unable to communicate through speech, whether from conditions like cerebral palsy, brain injuries or genetic causes.
"To me, communication is freedom," said the 35-year-old Proudlove, via her Vanguard, a keyboard-like device that transmits a voice.
"My Vanguard helps me in many ways," she said during a Tuesday gathering at the legislature that featured CAYA.
"It gives me a sense of personal safety and control. It allows me to express my wants and needs at home and in the community."
The devices that CAYA supplies to clients can be used in a number of ways, depending on the physical abilities people have, said CAYA manager Jeff Riley.
"We use eye interface - eye-gaze systems - we use head pointing, switches, scanning systems, Morse code," Riley said.
"Talking with others is how we build family, friends and lives," he said. "The restoration of functional communication through modern technology and professional supports opens the doors to participation in the human family and shows the world who we truly are."
CAYA gives people devices on indefinite loan, rather than having them incur purchase costs that range into the thousands of dollars, Riley said.
"We provide the technology and support services to clients across B.C., ensuring that the appropriate speech-generating technology is provided, programmed, repaired, replaced and recycled."
CAYA has received $15 million in provincial government funding since 2005, and helped about 630 people with communication technology.
The funding total includes a $5.7-million commitment over the next three years.
Social Development Minister Stephanie Cadieux said the government recognizes the valuable role that CAYA plays.
"Our support of CAYA is helping to ensure that everyone, every British Columbian, has the opportunity to contribute and achieve their greatest potential."
Technology given out by CAYA helps people change their lives, Cadieux said.
"Not having a voice leaves people marginalized in a way most of us cannot comprehend," she said.
"I can't imagine not being able to do daily things that many of us take for granted - ordering a cup of coffee in the morning, commenting on the weather and chatting to our neighbours."
jwbell@timescolonist.com
We thought you might also be interested in..