First tenants move into newly renovated Queens Manor units
May 16 2012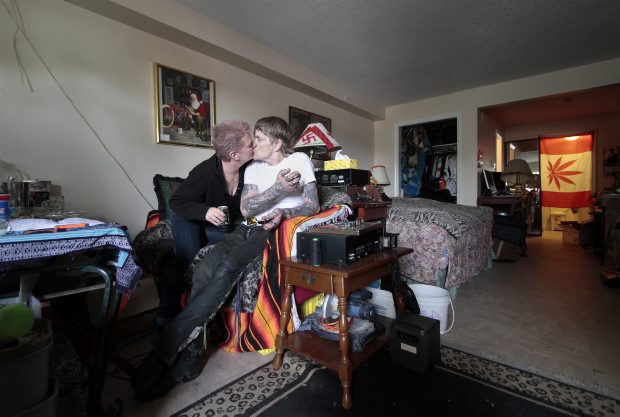 Doug Chipera and his partner, Pat Pinnock, in their newly renovated room at Queens Manor on Tuesday. Chipera says the housing has helped him "get back on the right path."
Photograph by:
Lyle Stafford , timescolonist.com (May 2012)
Doug Chipera doesn't hesitate when asked what his room at a former Traveller's Inn at 710 Queens Ave. has meant to him.
"It was a rescue," he said. "It definitely had a lot to do with helping me get back on the right path."
Chipera, 55, found himself homeless with only the clothes on his back in early 2011 after a bad breakup with his common-law wife led to a relapse using drugs.
A year ago - clean from drugs for a couple of days - he jumped at a chance to move from a tent in Esquimalt into the former Traveller's Inn, now known as Queens Manor. He has just moved into a newly renovated 300-square-foot room on the building's top floor.
Still off drugs - except for methadone (and alcohol, which he says has never been an issue) - Chipera proudly shows off his small unit packed with furniture he said he accumulated over the past year, mostly from garbage bins.
Partners in the Queens Manor project held a soft opening Tuesday, showing off the first 12 of what will be 36 renovated studio units in the former motel.
Builders are renovating the three-storey building while people are living in it. They started with the units on the third floor, where tenants are now relocating so renovations can begin on the next floor.
Queens Manor is one of two former Traveller's Inns bought by the city for $5.6 million in 2010. The renovations are budgeted at $1.5 million.
The low-barrier transitional housing is the first many former homeless residents have had in years.
It's operated by the Victoria Cool Aid Society, which staffs it around the clock with two people. Tenants pay $375 a month - equivalent to the provincial shelter allowance for rent.
Neighbouring businesses were quick to point to Queens Manor as a source of problems when it opened a year ago.
While there were some teething problems, John Crean, Cool Aid's manager of housing, said: "We are not the focus of attention now." There are other things attracting homeless people to the neighbourhood, he said, including a food bank and a nearby bottle depot.
Interior renovations to the units include new drywall and paint, new flooring, new electric baseboards and new blinds in each of the units and a new communal laundry and reception area. All 36 units will have kitchenettes including fridge, hot plate and cupboards, and the whole building is being equipped with sprinklers.
External repairs are being made to the roof, drains, railings and wall coverings.
"The units were all in pretty difficult shape," said Dean Strongitharm, of City Spaces Consulting, the project manager. He gave full marks to Canpro, the construction manager, for bringing the project in on schedule and on budget.
Completion is slated for early October.
bcleverley@timescolonist.com
We thought you might also be interested in..