At 19, disabled still face cuts, families say
May 17 2012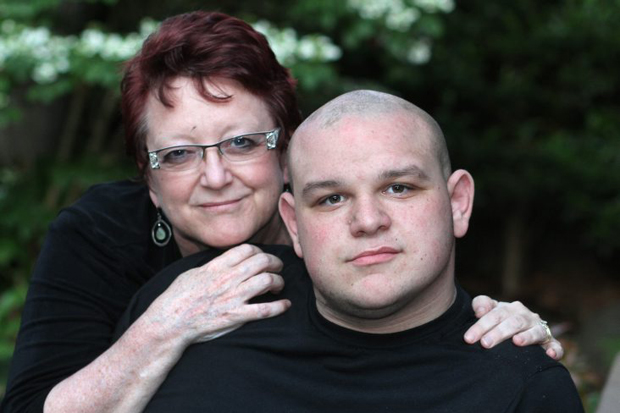 Catriona Johnson with her son, Asher Johnson-Dorman, who she says has made an amazing progress.
Photograph by:
Bruce Stotesbury , timescolonist.com (May 2012)
Young adults with developmental disabilities are still facing severe cuts in services once they turn 19 despite the B.C. government's promise to fix the problem, a group of Victoria families say.
The parents say their sons and daughters have been well supported in school and with services from the Ministry of Children and Family Development.
But now that they're 19 and preparing to leave school, they're being treated as if they have been miraculously cured and no longer need the same level of care, they say.
Catriona Johnson said her son, Asher Johnson-Dorman, who has autism and intellectual disabilities, made "amazing progress" because of the help he received as a child.
"From being non-verbal he can now communicate, he has relative control over challenging behaviours, he has begun to take the bus independently and he is engaged with his peers at school," she said.
The government, however, has told the family to expect little in the way of help once he leaves school at the end of June. As a result, Johnson fears her son will regress and that she will have to quit her job to look after him.
Similar cases last year forced a series of reviews and audits of Community Living B.C., the government agency that oversees services for adults with developmental disabilities. Eventually, the agency admitted that it had lost its way and the government injected an extra $40 million to improve services.
Social Development Minister Stephanie Cadieux said last week that the government was still working on a long-term solution.
Meanwhile, young adults will receive at least $2,800 a year in respite care so that nobody has to wait for help after turning 19, she said.
"These families have a tremendous strain on them and, at minimum, we want to be able to provide respite to all of them," she said Wednesday. Some individuals will receive additional services based on their health and safety needs, Cadieux said.
But Johnson and other Victoria parents say they have been told to expect little more than the bare minimum - even though Community Living B.C.'s own assessment tools show their children need a high level of care.
"When I found out that the amount of support we can expect for the year would be $2,800, I was so stressed out," said Cindy Webb, a working single mother.
Her 19-year-old son has Down syndrome and cannot be left alone. She said Community Living B.C. has assessed him as needing 17.5 hours of care a week, which would use up the $2,800 in just two months.
"I don't expect to have things handed to me on a silver platter, but I would hope that I would be able to earn a living for him and myself without having to worry about his safety," she said.
"CLBC assesses our young adults based on their needs, but then turn around and don't give us the support we are recognized as needing. It doesn't make sense."
Kathleen Cook wrote Cadieux to say that her 19-year-old daughter qualifies for 22.5 hours a week in support and is being offered just $50 a week to pay for it.
"Her safety and wellbeing are being threatened as we struggle to find a solution for her care next year," she wrote.
Johnson, Webb, Cook and two other families in Victoria hope to pool their resources, hire two workers and create a program that would allow their children to get jobs, attend school, volunteer and remain active in the community.
"You know, the same vision we have for our kids without disabilities," Johnson said.
None of that will be possible if the families receive only $2,800 a year, she said.
NDP critic Nicholas Simons believes the government tried to placate families "by giving everybody a crumb." But he said the minimum payments are so small that many people will be in desperate straits.
"People are always grateful," he said. "But I think, for the most part, people are going to say, 'The wolf is still at the door and there's no great comfort.' "
Cadieux acknowledged that the money falls short of what some families need.
"I fully recognize that $2,800 is certainly not going to solve every family's challenges and it's certainly not going to be the fulsome response that they would be hoping for," she said.
"But what we need this year is time to do the work internal to government that will hopefully, moving forward, make that transition period easier for families."
lkines@timescolonist.com
We thought you might also be interested in..
Notice
: Undefined index: event in
/home/viccity/public_html/v2/content.php
on line
67