Navigating the new sewage rules
May 17 2012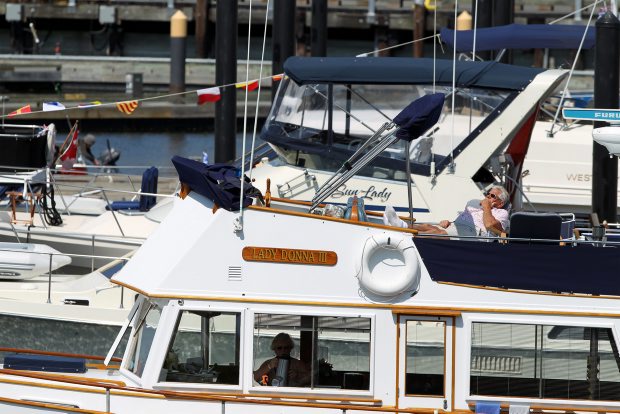 People enjoy their boat at the Inner Harbour docks on Wednesday. With the number of vessels on the water increasing as the temperatures inch up, boating safety issues take on added importance.
Photograph by:
Bruce Stotesbury , timescolonist.com (May 2012)
So, you're sailing through the Gulf Islands and your sewage holding tank is full, but there's no pump-out station within range and new federal regulations say boaters can't discharge untreated sewage within three nautical miles of land.
What to do? Pick the mid-point, find a fast-flowing current, get up some speed and dump, according to regulations that came into effect this month.
"The regulations do allow you to do a discharge close to land if there's no pump-out station available, but there's no definition of available. It's very vague," said Michelle Young, Georgia Strait Alliance clean marine program co-ordinator.
If it's necessary to dump within three nautical miles of shore, it is up to boaters to ensure it is an ebb tide, that there is fast-flowing, deep water as far as possible from shore and that the vessel is travelling at four knots or as fast as practical.
"They don't want you to dump it all in one spot," said Young, who applauds the intent of the regulations but would like to see them tightened.
The group says there is a lack of pump-out stations around the coast - there are about 40 facilities available - and would like to see more government funding to help install more.
"The more accessible they are to boaters, the more likely people are to use them," said Young, who is a recreational boater.
More federal and provincial funding is needed, so Canadian boaters can have a system similar to the U.S., where there are far more pump-stations available, said Mike Richards of the Georgia Strait Alliance.
"Some areas of the Gulf Islands now require a pump-out service before any marina redevelopments are allowed and Saanich Inlet has a mobile service which works well," Richards said.
The presence of the Pumpty Dumpty service in Saanich Inlet, run by the non-profit Saanich Inlet Protection Society, plus two marina pump-out stations, means no one can now legally dump sewage in the inlet.
The government's regulations include a list of places where there can be no dumping, including Prideaux Haven in Desolation Sound, Montague Harbour on Galiano Island, Pilot Bay on Gabriola Island and several locations around Cortes Island.
Some small boats with marine toilets still do not have holding tanks, but, with enforcement and increasing information for boat owners, that is changing, Young said.
"Half-a-million recreational boaters use the Strait of Georgia, so this should make a huge difference," she said of the new regulations.
"There are areas you can go to right now and see the toilet paper in the water and you know it's not a good situation. There are obvious health risks."
Treated sewage can be dumped provided it is not within one nautical mile of land, but few small boats have the capacity to treat on-board sewage.
The Georgia Strait Alliance has produced a list of pump-out stations around the coast. It can be found online at georgiastrait.org.
jlavoie@timescolonist.com
We thought you might also be interested in..