'Sorry I can't make the school reunion, I'm in Afghanistan'
May 19 2012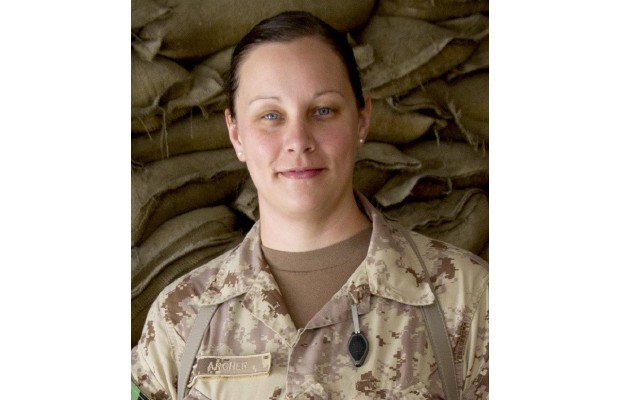 Capt. Carmen Archer, whose husband is also in the Forces, joined the military four years ago.
Photograph by:
Handout , timescolonist.com (May 2012)
Carmen Archer missed her 20-year high-school reunion this month, but she had a solid excuse.
The Victoria-raised Archer is a few time zones away in Afghanistan with the Canadian Forces, so her former classmates at St. Margaret's School had to make do without her.
"I sent them an email letting them know where I was," she said with a laugh.
Serving in the military never really occurred to her in high school, said Archer, who was Carmen Johnson at the time. But she was active in sports, so the groundwork for the physical demands of military life was in place from a young age.
"I was a very sporty person," she said. "Basketball and rowing were my main two sports there."
Archer, now an army captain, said she is still in contact with some of the staff at St. Margaret's, a private all-girls school, particularly her old basketball coach.
"She was very much a mentor for me and always kept me on the right path."
Archer went on to the University of Victoria, graduating in 1998 with a bachelor of arts degree in history and geography. She met her husband, Steven, when he was attending Royal Roads, back when it was still a military college.
After getting married, she began to ponder joining the Forces herself.
"My husband is in the navy, and I wanted a career of my own."
She would have started earlier, but the couple had two children and Steven was away a lot with work.
The family home is in Petawawa, Ont.
"The opportunity just wasn't there, but once the kids got to a certain age I decided it was time - and I just did it."
And so it was that Archer, now 38, came late to her military calling, joining four years ago. The children are now 12 and nine.
Archer's current tour of duty is also her first - an eight-month stint that will run until the fall.
She is stationed in the capital city, Kabul, where the climate can be a challenge.
"Right now, it's coming up on mid-May and it's starting to get really hot. . . . Kabul has a lot of smog and pollution and the heat really stays down."
A typical working day for army personnel lasts at least 12 hours, Archer said.
"Generally, we're on the go from 8 to 8, and also on call, too, at any hour."
Thanks to technology, touches of familiarity like the Stanley Cup playoffs are relatively easy to come by, despite the fact that hours Kabul is 11 1 /2 ahead of home.
"We can get the Canadian Forces channels here, so we're connected that way," Archer said. "And we're pretty lucky in that we can get the Internet and whatnot, and have that communication with the rest of the world and our families."
Regardless of the distance and time away from family, she said military personnel are eager to step up for postings like those in Afghanistan and help make difference.
"I know that there were lots of people that wanted to go, so the fact that I was picked is a great honour. I feel very fortunate to be able come over and serve not just my country, but for all intents and purposes, the Afghan people as they try to rebuild their country."
Archer's deployment has come as Canada's mission in Afghanistan is winding down, with Canada, the U.S. and their allies scheduled to leave in 2014. The combat portion of Canada's mission ended in December, and training Afghans for the time international forces are gone has become a major focus.
Archer is part of a group of about 200 people that assists the advisers in training the Afghans. Her chief duty is to obtain contracts with companies, both inside and outside Afghanistan, to keep the advisers properly supplied.
The overall Canadian contribution to training the Afghans is known as Operation Attention.
"The goal is to make them a strong, capable force of their own," Archer said.
jwbell@timescolonist.com
We thought you might also be interested in..