Astronomers gear up for today's partial eclipse
May 20 2012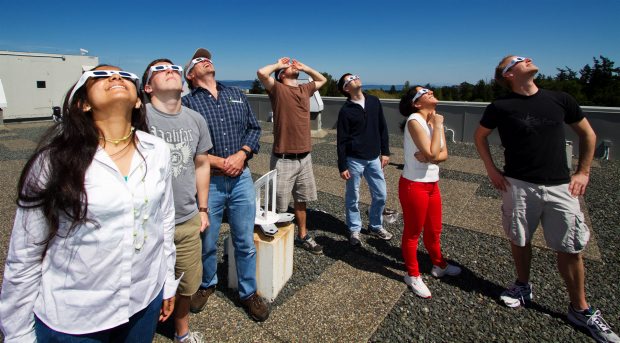 University of Victoria astronomy grad students, left to right, Athira Menon, Michael Palmer, instructor Russ Robb, Masen Lamb, Chris Barber, Azadeh Fattahi and Andy Pon, look at the sun using Eclipser glasses.
Photograph by:
Darren Stone , timescolonist.com (May 2012)
A partial solar eclipse today will be something to behold - as long as you protect your eyes while you're at it.
The University of Victoria's astronomy department is inviting the public to take in the heavenly spectacle, using the proper protective tools, atop the Bob Wright Centre on campus.
"The partial phases are where you have to be careful because the surface of the sun is still really, really bright," said UVic astronomy instructor Russ Robb. "You need to use a special solar filter or else welder's glass, shade No. 14."
Robb said there are plenty of both to distribute. Two telescopes with solar filters and two with projection screens will also be at the ready.
"It'll be a nice, safe way to take a look," he said. "And it's a nice chance to see the moon move across the sky."
He said staring at the sun can cause a retinal burn, which is irreversible.
Robb and his class will welcome the public from 4: 30 to 7: 30 p.m. The partial eclipse will start at 5: 01 p.m., and will be at its peak at 6: 16 p.m. when the moon is covering about 80 per cent of the sun.
"I can't remember a partial eclipse that covered this much," Robb said. "Usually, they're just a little nick out of the bottom of the sun and then it's all over."
The moon will have passed the sun by 7: 25 p.m.
"People can come for 15 minutes or half an hour or stay the whole time if they want," said Robb, who will have his students there to help him.
As with any astronomical event, viewing will be dependent on the weather. "No need to come up if it's cloudy," Robb said, laughing. "Stay home and watch it on the Net."
The session is free, as is parking at the university on Sundays. The best place to park is Lot 1.
The Bob Wright Centre is the site for weekly astronomy open houses each Wednesday through August from 9 to 10 p.m. Call 250-721-7700 for more details.
More chances to take in the eclipse are being provided by members of the Royal Astronomical Society, who will be active today with viewing stations at Mount Tolmie and Cattle Point, in front of the Royal B.C. Museum and adjacent to Metchosin's municipal hall. The astronomical society's Sid Sidhu said the stations are spread out to give as many members of the public as possible a chance to experience the partial eclipse. All stations will have a filtered telescope and eye protection for people to use.
"We will be setting up at 4: 30 p.m., getting ready for the actual event."
Stargazers with a sense of history may also be interested in an upcoming phenomenon on June 5 called the Transit of Venus - similar to an eclipse except with Venus crossing over the sun. It will be the last until 2117.
"The Transit of Venus is the big event this year for astronomy," Robb said.
The astronomical society will have the same viewing stations in place for the Transit of Venus.
$5,000 RAISED BY KIDS' MUSIC FESTIVAL
The recent inaugural Island Children's Music Festival, headlined by children's entertainer Fred Penner, raised $5,000 for charity.
Organizers said the grounds of the Island Montessori House School were packed for the event. Proceeds go to the Island Education Access Fund, which provides financial support to help children from low-income families and families with special-needs children to take part in programs at the Saanich school.
FASHION-LOVERS FLOCK TO UPTOWN
The Uptown centre is inviting fashion-lovers to drop by and make some trades on Tuesday.
The first Style-Uptown Fashion Swap runs from 6 to 9 p.m. at the shopping complex to support breast-cancer research through the B.C. Cancer Foundation. Tickets are $20 and are available at Uptown's guest-services department.
As many as 3,500 articles of clothing will be ready. An outdoor party will be held after the swapping. On the web: shopuptown.ca.
CHARITY CASH POURS INTO BOTTLE DEPOT
Cans and bottles are being turned into money for charity, thanks to a Bottle Depot program that started two years ago this month.
Yellow charity-donation bins are in place at Bottle Depot locations on Quadra Street, Queens Avenue and Glanford Avenue. For May, the deposits from recyclable beverage containers dropped in the bins are destined for the Victoria Cool Aid Society. Cool Aid offers social and health programs to people in need, and runs shelters and supportive housing.
"Every penny that goes in there goes directly to Cool Aid services," said Cool Aid's Alan Rycroft.
The Bottle Depot's Laura Peltier said the money from the empties is earmarked for a different charity most months. The only exceptions are for July and August, which are set aside for the Tour de Rock, and December, when the proceeds are committed to C-FAX Santas Anonymous.
"In the two years of doing the charity bins, we have fundraised $39,123.85," Peltier said. "That's gone to 24 different groups."
She said the program is set up to make donating as easy as possible. "If people come in and want to donate they can just drop items off, they don't have to do the sorting or anything."
The charity bins at the Glanford and Quadra sites are accessible 24 hours a day.
GET SHREDDING TO HELP HOSPITAL
The Mount St. Mary Foundation wants your shreddables.
The foundation, which supports Mount St. Mary Hospital and its complex-care residents, is holding a Shred-a-Thon from 10 a.m.-2 p.m Saturday. Confidential documents from individuals and businesses will be shredded in exchange for a donation, with $10 for a banker's-size box the suggested minimum contribution.
A barbecue will also be held.
The event takes place at the hospital at 861 Fairfield Rd.
jbell@timescolonist.com
We thought you might also be interested in..