Gardeners reap more than produce
May 20 2012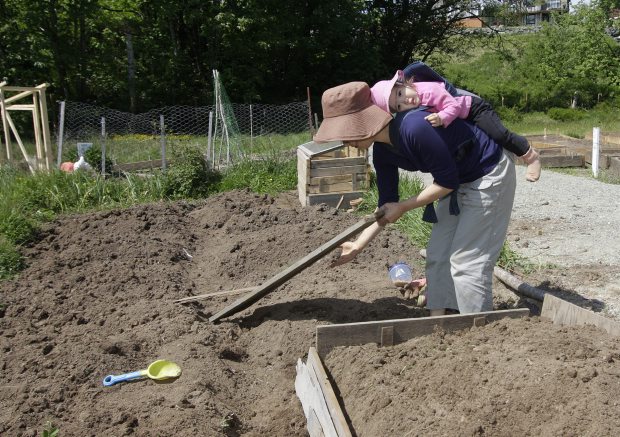 With her 18-month daughter Aki on her back, Tomoko Votour works her plot at the Sunriver Community Garden in Sooke. About 100 people garden at the site.
Photograph by:
Lyle Stafford , timescolonist.com (May 2012)
It takes time, compost and a strong back to turn clumps of hard clay at Sunriver Community Garden into fertile loam.
But the benefits go much further than the production of fresh, wholesome vegetables for the site's 100 or so gardeners and the various charitable services that receive their bounty, said organizer Phoebe Dunbar.
"We've got people here with all different kind of needs, but ultimately it's about being connected to something," Dunbar said during a tour of the Phillips Road plot.
The one-hectare property, once part of the historic Phillips farm, became a community garden sponsored by the Sooke Region Chi Society two years ago.
The virgin ground is hard, and the shovelled soil is clumpy until it's worked by rototiller and fluffed up with supplements.
The endeavour of a garden like this addresses intrinsic human values of sharing, giving and being part of a community, Dunbar said.
Some volunteer gardeners help grow food for local agencies such as the food bank, seniors centre, crisis centre and churches.
Last year, the garden generated 225 kilograms of food for the community, a donation that will certainly increase this season, Dunbar said.
The rest of the garden is available to people who pay an average of $50 a year to stake their claim. The gardeners reap far more than what they sow, Dunbar said.
"If you come to Sooke and you're lonely, you can come here and people will welcome you," she said.
She points to a plot used by an older prospector who mines the earth for potatoes when he's not mining the hills for gold. Another plot is the responsibility of a woman who, since gardening, has come off her depression medication.
"Every plot has a story," Dunbar said.
The T'Sou-ke band also is involved in the site, and will oversee a native-plant section of the garden.
The garden has received $70,000 in funding from various sources, including a $13,000 mentoring grant from the Victoria Foundation, which in turn allowed the garden organizers to leverage additional grants from other sources.
"This is probably one of our most successful grants - it's a real vision that grew," said Sandra Richardson, the foundation's executive director.
Professional landscaper Emily Moreland mentors gardeners young and old.
Moreland, 32, said she was inspired to garden by her grandfather, now 90, who for years fed the family with vegetables from his garden.
Now, during each Thursday visit, Moreland passes on her knowledge and passion to a new generation, including students from Journey Middle School and Pacific Secondary School.
The young people plant seedlings, water them, weed and burn debris.
"You just have to find the thing they like to do," Moreland said.
Being a mentor "is so much more fun than working by myself - just the energy, the relationships and the sharing of knowledge. I learn from everyone as well."
For Cecilia Langlois, who is relatively new to Sooke, the garden is a way to combine her passion while helping out the community.
"It's been really rewarding to see everything come up and know it's going to go to the food bank," she said.
Ellen Himmer, 66, only had 45 minutes recently to slug-proof her young cabbage with seaweed gathered from Whiffin Spit.
"I used to have a sheep farm in Manitoba and I just love doing my own thing with the soil," said Himmer, a Sooke resident for 12 years and a cellist with the local philharmonic orchestra.
Last summer's crop yielded 136 kilograms of vegetables for the freezer, she said: "It got us through the winter."
At the far end of the site, Tomoko Votour gardens with her 18-month-old daughter, Aki, riding on her back.
"I'm juggling kids, the house and this is something that I want to do," Votour said. "I would like to do this more often.
"I look at other peoples' garden and that inspires me, gives me motivation. Gardening by myself only goes so far because I know so little."
Wynn Lecomte, 71, paired up with her friend Leslie Matthews, 78, "because we decided we were too old to do it on our own."
Lecomte lives on the ridge at Otter Point and the wind makes gardening difficult, she said. "Flowers are fine but veggies haven't been good," she said.
Matthews has been an avid gardener all her life. "My dad started me on gardening when I was about eight."
Nearby, teacher Hammond Domenichelli was watching over four students ages 15 to 19 from Pacific secondary school. Not that he knows much about gardening, but he knows the kids are getting credits for leadership and learning to grow food.
"We're making it up as we go along, actually," Domenichelli said.
There are 50 students participating in the gardening project and about 20 visit the garden each week. On this particular day, the students worked together for four hours without a break.
There were plans on the following day to roast wieners over a fire.
The venue is also opening opportunities for the school counsellor, who attends most days, to work with kids on personal issues.
"If a kid needs to talk, they'll go off and go for a walk and talk," said Domenichelli.
smcculloch@timescolonist.com
We thought you might also be interested in..