Drive-in offers taste of history
May 20 2012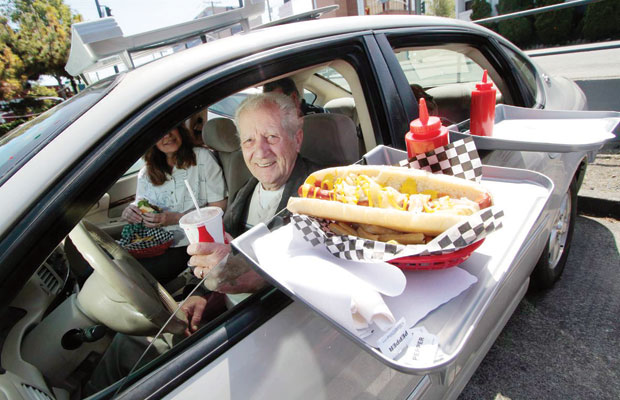 Bill Donald, who worked as a car hop at Paul's Drive-In in the 1950s, tucks into his foot-long hot dog at the restaurant's re-opening.
Photograph by:
Lyle Stafford , timescolonist.com (May 2012)
It has been 57 years since Bill Donald ran trays of burgers and fries to drive-in customers at Paul's Motor Inn and Restaurant.
He took the job in the summer of 1954, when he was just 14, the Douglas Street parking lot was always filled with teenagers. He and the rest of the allmale car-hop staff, in their dark red suits, made sure everyone got their food as quickly as possible.
A mix of new and classic cars rolled into the parking lot on Saturday for the official re-opening of Paul's Drive-In, which originally operated between 1953 and 1972.
The drive-in will be open from Friday to Sunday until the end of the September, but that schedule could change if the demand is there, said manager Mike King.
Brian Young, 50, and Sean Wright, 41, were two of the first customers on Saturday to order from the new car hops, who were run off their feet with a constant stream of cars rolling in.
With a tray of food hanging from the window of their car, they used their smartphones to post photos on Facebook and send their friends messages about where they were.
"For a lot of people, it harkens back to, not a simpler time, but a different time," Young said.
"For some people, they've never been to [a drive-in]. I can't remember the last time I ate lunch in my car."
Three car hops from the early years were at Saturday's event, including Donald and Alan Gustus. Tony Berry, 74, figures he was one of the first ever hired.
They remember the Mercuries, the Pontiacs and the Buicks lining up on any given night; the outdoor speakers blasting the latest rock 'n' roll hits.
At the time, this was the thing to do in Victoria, they said: People got their licence and they came to the drive-in.
King predicts the reopening will be a success this summer, especially with members of classic car groups salivating for some mouth-watering nostalgia.
"People are quite excited about it," he said. dspalding@timescolonist.com
We thought you might also be interested in..