Victoria police deputy chief receives Queen's Diamond Jubilee Medal
May 21 2012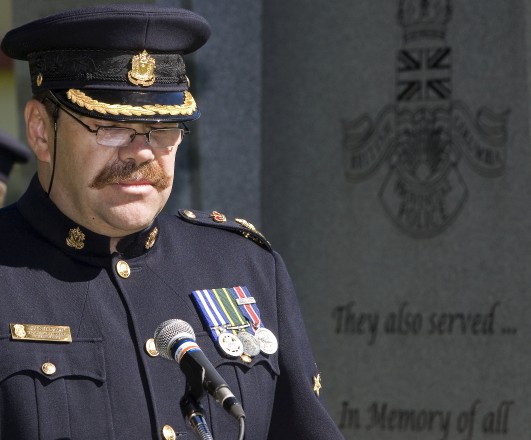 Victoria police Deputy Chief Const. John Ducker joined the department in September 1979.
Photograph by:
Adrian Lam , timescolonist.com
Victoria police Deputy Chief Const. John Ducker has received the Queen Elizabeth II Diamond Jubilee Medal for his long service record.
The medal was presented to him Saturday by Esquimalt-Juan de Fuca MP Randall Garrison at Esquimalt Municipal Hall. Garrison had requested nominations from the public and a community selection committee nominated Ducker, a longtime Esquimalt resident.
The Diamond Jubilee Medal recognizes his progressive policing in Victoria and Esquimalt during his 33-year career.
"John Ducker represents the best of Victoria Police Department," said Chief Jamie Graham. "He has dedicated his career to progressive policing that puts the needs of the community first. It is not the least bit surprising that he is being honoured today in such a prestigious manner."
In 1985, Ducker became one of the first two police dog handlers for the Victoria police. He made the department's first DNA submission case in the prosecution of a serial rapist, and was project manager for the amalgamation of the Victoria and Esquimalt police departments in 2002.
Ducker was awarded the B.C. Lieutenant Governor's Award for Valour in 1981 for his actions in pulling a trapped motorist from a burning car, and he was voted Top Law Enforcement Officer for 1981.
We thought you might also be interested in..