Rain fails to dampen spirits for 114th Victoria Day parade
May 23 2012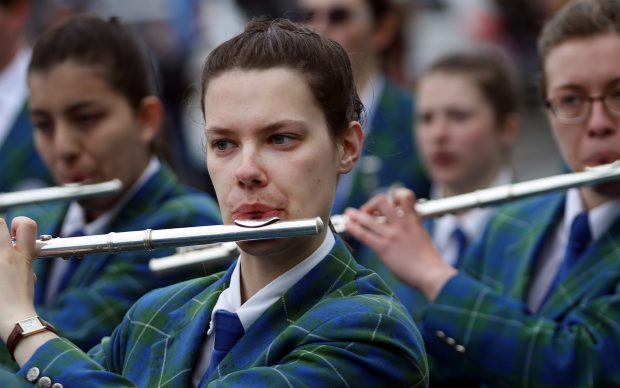 The Reynolds Secondary School marching band makes its way down Douglas street during the Island Farms Victoria Day Parade.
Photograph by:
Adrian Lam , timescolonist.com (May 21, 2012)
The kids on float No. 143, the last band to cross the start line in the 114th Island Farms Victoria Day Parade, were giddy Monday about playing to huge crowds.
But it didn't quite play out the way they had envisaged.
It had been more five hours since they first gathered. Three hours since the parade started. The kids in West-Mont Montessori School's marimba band reasoned that at a concert, the best act always plays last and to the biggest cheers.
Alex Perman, 10, said his band would provide the big bang to end the parade, akin to the finale in a fireworks display. At the peak of the parade, police estimated there were 65,000 spectators — not bad given the rainy, cool weather.
But three hours after the parade started, at 12:04 p.m., the marimba band — whose name Mushana means "morning sunshine" in Zimbabwe — started its procession down Douglas Street to fewer "fans" than expected.
The students' performance T-shirts and instruments were covered in clear plastic to shield them from the rain. But the children's hearts and eyes were fully exposed as they saw swaths of empty curbs and the heartiest of parade watchers busily folding up chairs and blankets.
Still, if the sight was heartbreaking for some parade onlookers, it was lost on the kids.
Saiyah Aujula, who turned nine Monday, said the opportunity to perform her marimba music to crowds of Victorians at the parade was a privilege.
None of the students had minded the long wait for the parade to begin or the weather — even Alex, who had arrived promptly at 6:30 a.m.
It would be a cliché to say the rain couldn't dampen their spirits. But for this enthusiastic well-spoken group of Montessori marimba musicians, it was also true.
"The kids had a ball anyway," said marimba teacher Lorraine Buchanan. "I don't think they realized people had been on the curb prior. It honestly didn't bum them out at all."
Buchanan was grateful to the diehards who remained to cheer the kids on and those who genuinely love the up-tempo marimba beat.
"The people we went past really responded well," Buchanan said. In response, the kids were very pleased, she said.
Included among those diehards was the Petersen family. Scott Petersen, 47, has taken on his father's tradition of never missing a Victoria Day parade with his family.
He was there with wife, their two daughters, his niece and her three young children. Sitting on layers of plastic and blankets and covered with sleeping bags, the family was committed to a day of family and fun.
"I like to see the kids' faces when the see the clowns," Petersen said. "And I like the local bands, but every year they seem to be getting less and less. That's too bad."
Not including military bands, there were two Victoria marching bands in the parade — Reynolds and Spectrum high school bands.
Betty-Anne Sirna, watching the crowd, said it should be mandatory that all schools with a band participate in the parade either as separate entities or combined with other schools. Local bands are what the community most likes to see, she said.
Spectrum Community School band director Jamie Davis said the roughly 100 members, in Grades 9 through 12, practised hard for this day.
"It's about getting out and having fun, and doing something for your school and for your community," Davis said. "That's why we are out here."
Tyler Scarr-Silvaggio, 16, played his sousaphone, a marching tuba, with pride. He chose the instrument because "it looks cool" despite it being somewhat cumbersome. "Having everyone watch gets me pretty pumped," he said.
Lesley Robinson, 11, played her trombone. She didn't have family in the audience — most of them are in Duncan — but she played her heart out, just the same.
"I'm just really happy we got here — to this day," Robinson said. "It takes a lot of work to get to this point, but in the end it all pays off."
Reynolds band director Jacqui Sullivan said the marching band began rehearsals in March. The Victoria Day parade is a different animal from performing at festivals and contests, she said. "The kids look forward to it all year," she said. "Something about parade day is different."
At the end of the day, Spectrum Community School would win best in the Drum Majors category.
Reynolds Secondary School won for best Canadian band, best drill team and best overall band.
ceharnett@timescolonist.com
We thought you might also be interested in..