Bus passengers pass the hat to help woman see dying mom on Vancouver Island
May 23 2012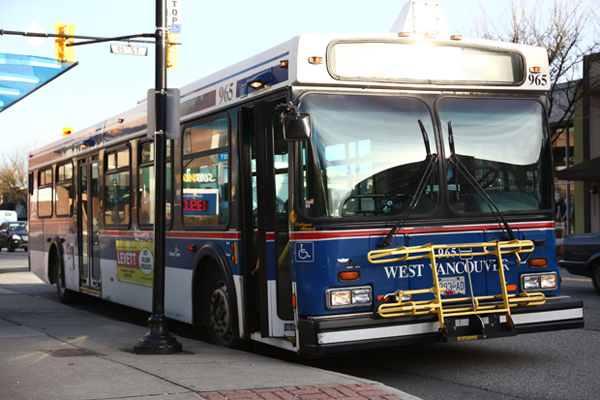 A West Vancouver Blue Bus made a special detour to a down town floatplane terminal May 12 to ensure a woman could get to Nanaimo in time to see her dying mother. Passengers took up a collection to help cover the airfare.
Photograph by:
North Shore News , file photo
A West Vancouver bus driver and passengers on an express bus to Horseshoe Bay are being hailed as Good Samaritans after they stepped up to get a woman to Nanaimo to see her dying mother on Mother's Day.
The bus was heading from downtown Vancouver to the Horseshoe Bay ferry last Sunday morning when an accident on the Lions Gate Bridge closed the bridge to traffic.
The driver had just announced to passengers that the bus would be rerouted over the Ironworkers Memorial Second Narrows Crossing when he was approached by a woman asking if the bus would still make it in time for the 12:30 p.m. ferry to Nanaimo.
When the bus driver said he didn't think so, the woman "broke down in tears," said Gareth Rowlands, manager of the West Vancouver Blue Bus transit system. She told the driver she'd got a phone call saying her mother - who was in hospital in Nanaimo - likely only had a few hours to live. The woman told him she only had enough money to travel by ferry.
Hearing that, another woman on the bus took up a collection from fellow passengers and managed to come up with enough money for the approximately $90 floatplane fare from Vancouver to Nanaimo.
The bus driver, an employee with 16 years' experience, then drove the bus to drop the woman off near to the floatplane base in Vancouver Harbour before continuing on to the Second Narrows.
Rowlands said he first heard about the incident when he heard bus drivers talking about it. The driver of the express bus gave the passengers full credit, he said.
"He said anybody else would have done the same thing. He was just glad that the lady stepped in to help," said Rowlands.
jseyd@nsnews.com
Click here to read more stories from The North Shore News.
We thought you might also be interested in..