Cyclist undertakes hard trek to ease others' last moments
May 24 2012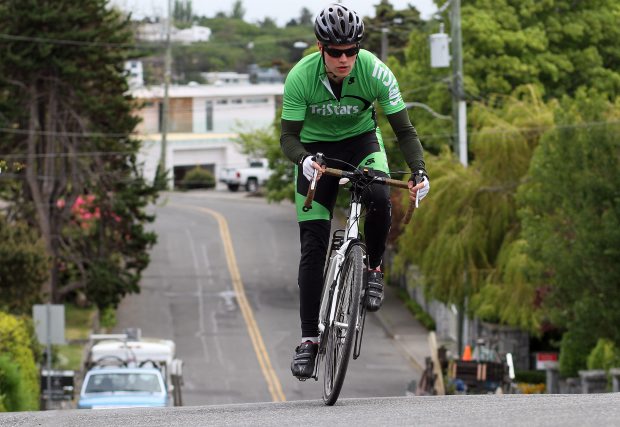 Sean Jacklin climbs King George Terrace in Oak Bay. Jacklin, 21, leaves June 5 on a 7,500-kilometre solo bike ride to St. John's to raise money for the Victoria Hospice.
Photograph by:
Adrian Lam , timescolonist.com (May 2012)
Sean Jacklin rides up Oak Bay's King George Terrace with barely a puff.
That's good, because the short, steep piglet of a hill is nothing compared to the climbs he'll face next month when he grinds up the Coquihalla, the Selkirks, the Rockies with weight equivalent to a small human strapped to his bike.
Those ascents sound bad enough, but cyclists who have already pedalled across Canada warn him to be ready for Ontario - a never-ending series of hills whose only purpose is to tick you off.
And oh, they also advise him to keep his bear spray on the front of the bike, nice and handy.
Jacklin can only imagine what the next three months will bring. In cycling, as in death, the greatest fear is the unknown.
Death is why he is about to embark on this journey. His one-man Cycle of Life Tour is a fundraiser for Victoria Hospice.
The Stelly's grad came to the cause sideways, taking on the Cycle of Life from his friend Graham Robertson, who rode 3,632 kilometres from Anchorage, Alaska, to Victoria in the first version of the event last year. Jacklin says Robertson, whose ride raised $13,000, chose the hospice because it seemed to be most in need of help.
It wasn't until Jacklin had committed to the ride that he discovered a personal connection. "My mom said, 'You know, your Grandma Carey spent the last three weeks of her life in the Comox hospice.' "
No, he didn't know. End-of-life care isn't something you think about when you're 21, strong and nothing hurts when you get up in the morning. Actually, it's a subject that makes people of any age squirm and scramble to change the topic.
"Nobody wants to talk about it," Jacklin said.
That's the eternal stumbling block for those trying to raise both money and awareness. Since the hospice is sited on the grounds of Royal Jubilee Hospital, people think it's funded by the Vancouver Island Health Authority. In truth, only half of its operating costs are covered by the health-care system. The rest come through donations, mostly through estates or at the request of families who have had a loved one die in the organization's care.
"We're not a big fundraising machine," says Victoria Hospice's Kathleen Burton. So, yes, they're happy that Jacklin, who will enter his third year at the University of Victoria in September, is riding to the rescue.
He plans to pedal away from Mile 0 on June 5, arriving in St. John's around Aug. 20 after 7,500 kilometres or so.
That's a long way to ride solo, particularly for someone who has never embarked on a multi-day bike trip before. His longest ride has been about 100 kilometres.
But he's an adventurous, athletic guy, a big hiker and surfer. "I think I'm young. I'm pretty much invincible."
And he's no stranger to a bicycle. "I sold my car in February, bought the cheapest decent bike I could find and went with it." It became his way to commute to Van Isle Marina, a 40-kilometre round trip. "No choice, rain or shine, every day."
The distance has increased as the Cycle of Life nears. "I usually get up every morning around 6: 30, fire in 60 kilometres or so just to wake up."
He plans to camp and couch-surf, sticking to the Trans-Canada for most of the route, as that will take him through communities in which he can try to promote the local hospice. He hopes to raise $50,000. To keep track of his trip, check out cycleoflifetour.ca.
FOUR WHEELS FAST, TWO WHEELS FASTER
As Sean Jacklin prepares to cross Canada and Ryder Hesjedal earns glory at the Giro d'Italia, the rest of Victoria is getting ready for Bike to Work Week.
Which means Wednesday was time for the annual Commuter Challenge, in which cyclists race drivers - within the law - to the Starbucks at Blanshard and Fort. This year, riders won 15 of the 20 head-to-head contests, with two ties.
Starting from Uptown, the Times Colonist's Les Leyne, who regularly pedals to work at the legislature, beat cabinet minister Ida
Chong and her car. I edged Mira Laurence, if only because she had to find parking for her CTV News vehicle. Cyclist Amy Dearden beat driver Mike Clermont from Langford's Goldstream Avenue by a whopping six minutes.
Since Hesjedal is doing so well at the Giro this week, I would like to note - because, gosh, no one else will - that I beat him on my bike in the 2010 Commuter Challenge. I don't mention that he was in a car.
Bike to Work Week is May 28-June 3.
- J.K.
jknox@timescolonist.com
We thought you might also be interested in..