What's all the noise about? A pole-peeling plant
May 25 2012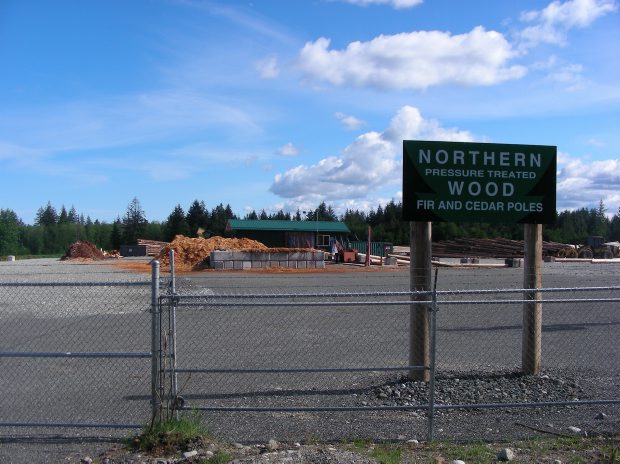 A pole-peeling plant in Campbell River is upsetting some neighbours because of noise and traffic levels.
Photograph by:
Courtesy Tracey Deller , timescolonist.com (May 2012)
After five months of operation and hundreds of complaints, a Campbell River pole-peeling operation is poised to make changes to reduce the noise at its plant.
The city expects to issue a building permit today to allow Northern Pressure Treated Wood Ltd. to make changes that would reduce the noise it makes while stripping and treating wood.
City officials have been facing complaints - including 550 last week, said city clerk Peter Wipper - about the plant since it began operating in January, with most coming from the 60 residents at the adjacent mobile home park.
The changes - recommended in February by BKL Consultants in Acoustics but submitted by the pole-peeling company to the city May 22 - include reducing the area where the logs enter and exit the machine, enclosing the openings with insulated tunnels and installing flexible vinyl curtains.
Wipper said the company indicated it would take two to three weeks to make the modifications.
A spokesperson for Northern Pressure Treated Wood Ltd., which hasn't been operating for the last week, was not available for comment.
Raymond Garant, who retired to Blue Spruce Mobile Home Park a year and a half ago with his wife, Ann Garant, said noise from the plant is affecting his health. He went to his doctor in early May with concerns about anxiety, irritability and insomnia.
"I believe that the source of his stress is the noise from the plant," Dr. Philip Hinds wrote in a May 11 letter. "Exposure to constant whining noise is liable to induce a stress reaction, which in turn can be harmful to emotional, mental and physical health."
Virginia Heal blames the noise for dropping the selling price of her mobile home from $180,000 to $128,500 - but said she's grateful it sold at all.
"That's why they bought it, basically because they got such a good deal on it," said Heal. "They couldn't pass it up."
But the whining from the pole-peeling plant is not neighbours' only concern.
Residents say there has been increased heavy truck traffic and that dust from the plant is accumulating on the mobile home park.
"Last week, the dust was so bad it was a quarter of an inch on our car," said Raymond, who has chronic obstructive pulmonary disease. "That is not healthy at all. I can hardly breathe."
The city is focusing on the noise complaints, Wipper said. "If the dust is a continual problem during windy, dry conditions, it will have to be dealt with."
mkaralis@timescolonist.com
We thought you might also be interested in..
Notice
: Undefined index: event in
/home/viccity/public_html/v2/content.php
on line
67