Nurses call for improved care, increased staffing levels
May 25 2012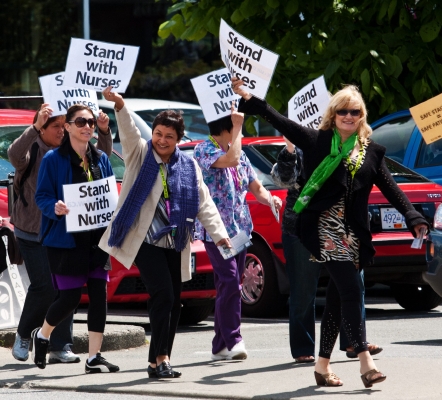 Thursday: Nurses march on Finlayson Street near the Mayfair Shopping Centre to highlight concerns about safe patient care and safe staffing levels
Photograph by:
Darren Stone , timescolonist.com (May 23, 2012)
Nurses from across the health-care system came out Thursday to call for improved patient care and increased hospital staffing.
The group of about 60 nurses gathered at the corner of Finlayson and Douglas streets and marched around Mayfair Shopping Centre.
Margo Wilton, co-chairwoman of the B.C. Nurses' Union South Islands Region, led the charge, wearing a traditional navy blue cape and nurse's hat.
"What ends up happening is [hospitals] go over capacity," she said.
She said that community care centres, mental health facilities and residential posts are also understaffed.
Nurses in all facilities share similar complaints, said Wilton, who has been a nurse for 18 years.
"We need more nurses and we need more beds," she said. "You can't imagine the number of nurses who tell me they go home and cry, thinking, 'I don't know what I haven't done or what I missed.' "
At 27 years old, Christine Leach has been nursing for five years. She said recent graduates experience a shock when they start their first jobs.
"We can't care for patients the way we're trained to," she said. "You have this idea about all this great care. It's a fantasy."
Leach said there's no shortage of nursing students, but graduates face a tough job market. And when the do find employment, the reality of Canada's health-care inadequacies set in, she said.
"It makes doing your job difficult."
Adriane Gear, co-chairwoman of the B.C. Nurses' Union South Islands Region, said Thursday's protest was aimed at garnering public support.
"We want to start engaging with the public one-on-one," she said. "What we're doing is for their safety."
The union's collective agreement expired March 31. Negotiations are underway for a new agreement that will affect 30,000 nurses in the province.
Gear said B.C. residents need to protect the health-care system and demand more nursing staff.
"The citizens of B.C. need to speak up," she said.
cclancy@timescolonist.com
We thought you might also be interested in..