Traffic moving after jack-knifed pickup truck blocked traffic on Sooke River Bridge
May 26 2012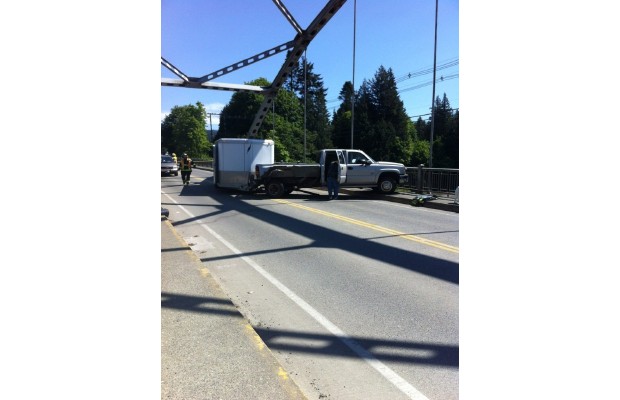 A jack-knifed pickup truck is blocking traffic coming in and out of Sooke.
Photograph by:
Submitted by Debbie Capper , timescolonist.com (May 2012)
Traffic is now flowing, less than two hours after a pickup truck hauling a trailer jack-knifed across Sooke River Bridge, causing a four-car crash and blocking traffic in and out of Sooke.
It happened at 10:39 a.m. when the truck driver lost control on the bridge on Sooke Road, said Sooke fire chief Steve Sorensen.
Three other cars collided with the truck, but Sorensen said there are no major injuries. One person was being secured on a spinal board but B.C. Ambulance was having trouble getting to the scene because of the resulting traffic jam.
The truck was bacdly damaged, losing its drive shaft and back quarter panel, Sorensen said.
Lori Rittaler, who works at the Castle beer and wine store, said around 11:20 a.m. she could see ambulances getting through.
Traffic was back up several kilometres in both directions.
Tow trucks arrived around 11:45 a.m. and the truck was cleared around 12:15 p.m. The other three cars did not have to be towed away.
The bridge has seen similar accidents in the past. On May 8, 2006, a semi-trailer hit two cars, sending it up one of the support beams and dangling off the bridge. Traffic was blocked for seven hours.
The driver was convicted of driving without due care and attention.
We thought you might also be interested in..