One family, two transplants
May 26 2012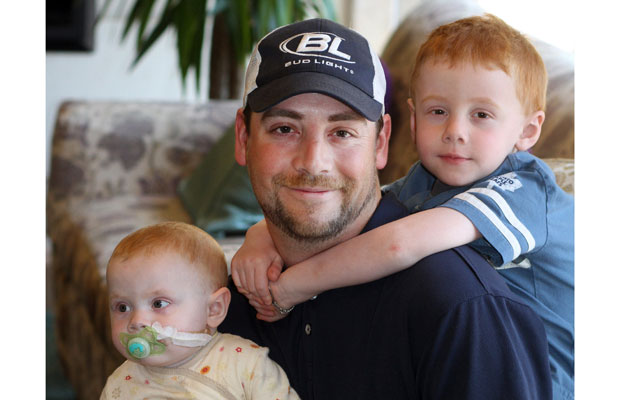 Jason Hampson with Logan, 4, and Alyson, who has just turned one.
Photograph by:
Bruce Stotesbury , timescolonist.com (May 2012)
It's a family photo like no other: Mom, Dad, son and daughter each showing off their liver-transplant scars.
"It's pretty neat," said Jason Hampson, the father in the photo. "It's different anyway."
The scars are a permanent reminder of the Hampsons' ordeal and the help from the David Foster Foundation that helped make it easier.
Hampson said things would have been considerably different if the foundation hadn't covered thousands of dollars in family expenses, food, parking and accommodation during not one but two transplants.
"We would have been seriously in financial debt, for sure," said Hampson, whose family was flown to Victoria this weekend to help mark the foundation's 25th anniversary.
The Hamilton, Ontario, family is possibly the only one in the country in which two siblings, both suffering from unexplained liver failure, have each received life-saving organ donations from one of their parents.
The older child, Logan, was born healthy Aug. 18, 2007. But at 4 1 / 2 months, he started throwing up, so his parents, thinking he had the flu, took him to hospital.
A few days later, after mother Lynn thought Logan's eyes looked yellow, he was admitted. After a barrage of tests, it was determined something was wrong with his liver.
But he seemed to recover and the family returned home.
Almost a year later, in the winter of 2009, blood work showed his liver was again failing and it was determined he needed a transplant.
Lynn immediately volunteered to be a donor and started the long process to find out if she was a match. She was. The surgery, done in May 2009, has been a tremendous success.
When they considered having a second child, doctors told Lynn and Jason the odds of another child having Logan's condition were slim.
Alyson was born May 25, 2011, and early tests showed her liver was normal.
But in November, Lynn took Alyson to hospital with a respiratory infection that was causing breathing difficulties.
A week later, the parents noticed her eyes looked a little yellow.
Blood work confirmed Alyson's liver enzymes were off and it was quickly determined that she, too, needed a transplant.
A second donation from Lynn wasn't possible, so Jason began the process of testing to see if he was a match.
He was and doctors, deciding there was no time to wait, scheduled immediate surgery.
The transplant, done in December 2011, has also been a success and little Alyson is doing well.
There was never any doubt in either parent's mind that they would volunteer to be a donor.
"You can't sit back and watch your kid suffer knowing that there is a possibility of you being able to help out," said Jason.
"And how many parents can say they literally saved their kids' lives?"
But concern for the children's health will never leave, he said.
"They're undiagnosed. [Doctors] have no idea what caused the liver failure. They have no idea. They've had blood work and liver biopsies sent all over the world and they keep turning up empty stones," he said.
"It would be nice to know what disease they have so we know what to expect and what to look for in the future. Right now, it's tough because we have no idea what to expect."
Since 1986, the David Foster Foundation has assisted more than 700 families with children in need of major organ transplants and provided millions of dollars in direct support.
In 2006, the foundation became a national organization, expanding to help families across Canada.
We thought you might also be interested in..
Notice
: Undefined index: event in
/home/viccity/public_html/v2/content.php
on line
67