Tsunami motorcycle going to U.S. museum
May 26 2012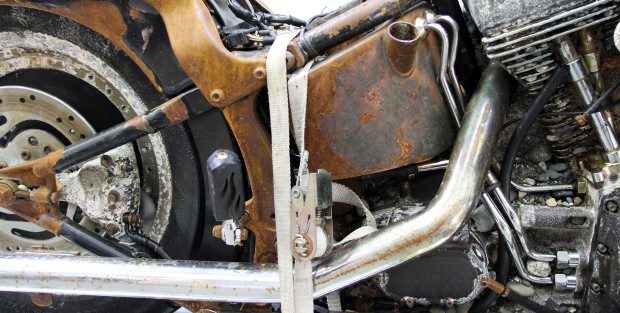 A 29-year-old Japanese man's Harley-Davidson motorcycle was swept from Japan by last year's tsunami. It was discovered on a beach in Haida Gwaii.
Photograph by:
Adrian Lam , timescolonist.com (May 2012)
A Harley-Davidson motorcycle from Japan that washed ashore in Haida Gwaii after a devastating tsunami a year ago will be preserved in the Harley-Davidson Museum in Milwaukee, Wisconsin.
The plans were announced Friday morning, after the Japanese owner decided to preserve the motorcycle as a memorial to lives lost in the tsunami rather than taking the bike back.
Masset resident Peter Mark found the 2004 FXSTB Softail Night Train on Graham Island on April 18 after it drifted 7,000 kilometres across the Pacific Ocean in a Stryofoam-lined storage container.
Harley-Davidson offered to ship the bike back to its owner, 29yearold Ikuo Yokoyama, and restore it to running condition.
Yokoyama - who is still trying to rebuild his life after losing three family members and his home in Yamamoto, in Miyagi Prefecture - said he'd rather see the bike displayed in the museum, in honour of those killed, injured and displaced by the earthquake and tsunami on March 11, 2011.
Miyagi Prefecture, on the east coast, was one of the areas hardest hit by the massive tidal wave.
"It is truly amazing that my Harley-Davidson motorcycle was recovered in Canada after drifting for more than a year," Yokoyama said in a statement released by Harley-Davidson Friday morning.
"I would like to take this opportunity to express my heartfelt appreciation to Peter Mark, the finder of my motorcycle."
In the statement, Yokoyama said he has discussed with many people what to do with the bike.
"I would be delighted if it could be preserved in its current condition and exhibited to the many visitors to the HarleyDavidson Museum as a memorial to a tragedy that claimed thousands of lives," Yokoyama said.
Harley-Davidson has offered him the opportunity to visit the museum and Yokoyama said he hopes to eventually do so. He said he would also like to meet Mark, to express his gratitude.
"Finally, I would like to thank all people around the world once again for their wholehearted support of the areas hit by the earthquake and tsunami," Yokoyama said in the statement. "I would like to ask them to help convey messages from the Japanese people about the tragedy of the Great East Japan Earthquake, which was a disaster of historic proportions."
News of the bike's recovery made international headlines - Mark was interviewed by media from Japan and across the United States.
Tofino Harley enthusiast Ralph Tieleman, a friend of Mark's, helped deliver the battered bike to Steve Drane's Harley-Davidson dealership in Langford on May 11.
Drane had originally offered to collect donations and restore the bike in Langford before sending it back to Yokoyama, but changed his mind when he saw the bike.
"I thought, 'There's too much of a story to be told here,'" Drane said in an interview Friday.
He said about 1,000 people flocked to see the bike when it was on display outside his dealership.
"That motorcycle the way it sat, it was so powerful. I watched people looking at it. The expressions on their faces told me, 'You've got to leave it the way it is.' "
In the statement, Mark said it's fitting that the Harley should serve as a memorial to the tsunami tragedy.
"It has an interesting and powerful story to convey preserved in its current state."
Mark said his heart goes out to Yokoyama and the survivors. "I cannot even begin to comprehend the loss of family, friends and community."
The bike has been shipped to Deeley Harley-Davidson in Vancouver until plans for its arrival at the museum have been finalized.
Drane said he's happy the wishes of the owner are being realized.
"It's a good end to the whole story."
kderosa@timescolonist.com
We thought you might also be interested in..
Notice
: Undefined index: event in
/home/viccity/public_html/v2/content.php
on line
67