Swiftsure launches today
May 26 2012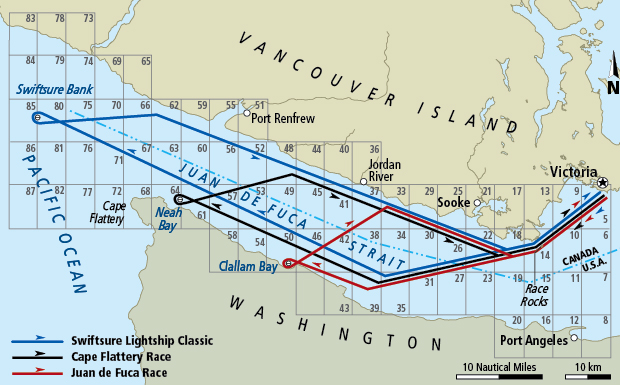 Map of the Swiftsure race routes.
Photograph by:
. , timescolonist.com (May 2012)
The Swiftsure International Yacht Race will kick off this morning with a pancake breakfast hosted by the Central Saanich Lions Club.
From 8: 30 to 11 a.m. at Clover Point, spectators can enjoy a $5 breakfast that includes ham, pancakes, juice, coffee and tea.
Coffee and tea can also be purchased for $1.50.
Boats will launch starting at 10 a.m. in five separate groups from Clover Point, where two expert commentators will be on hand to provide information on the race.
From Clover Point, spectators can travel to Cattle Point, where vessels sailing on the inshore course will be visible in the late afternoon.
Saturday's day-long race will finish at the Royal Victoria Yacht Club in Oak Bay.
Boats competing in the three distance courses will arrive at Ogden Point throughout the day on Sunday.
For vessels to successfully complete the race, they must reach Ogden Point by 6 a.m. Monday.
The weather for the weekend promises smooth sailing, with sunny days and light winds.
From 9 a.m. to 6 p.m. today and 10: 30 a.m. to 6 p.m. on Sunday, children can play on Funner Inflatables located at Ship Point.
We thought you might also be interested in..