University of Victoria microscope lures scientists
May 26 2012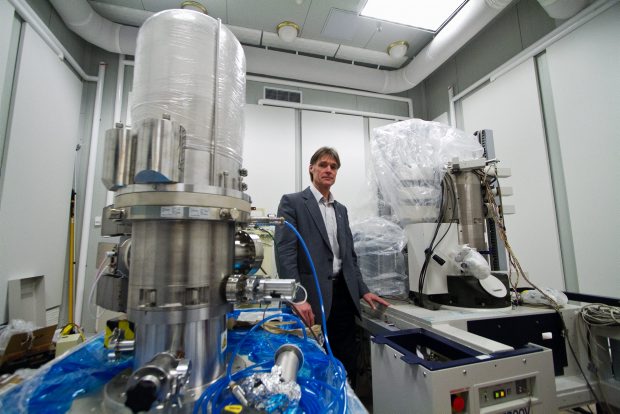 UVic associate professor Rodney Herring with the world's most powerful microscope.
Photograph by:
Darren Stone , timescolonist.com (May 2012)
Build a better microscope and the world will beat a path to your door.
That's just what's happening at the University of Victoria, now that the world's most powerful microscope has been delivered to the Gordon Head campus. It will allow researchers to view objects at a magnification of as much as 20 million times larger than seen by the human eye.
The hulking Scanning Transmission Electron Holography Microscope, known as STEHM, arrived in pieces and had to be rebuilt Friday under the direction of Rodney Herring, an associate professor in UVic's department of mechanical engineering, and David Hoyle from Hitachi High Technologies Canada.
At 4.5 metres tall - the equivalent of almost one-and-a-half basketball hoops - and weighing seven tonnes, the STEHM is an impressive sight in its temperature-controlled basement home in UVic's Bob Wright Centre. Researchers will need to climb a stepladder to insert specimens into the device.
With the unparalleled resolution the microscope provides, scientists around the globe are already clamouring to use it.
"We have them from all the departments on campus, and then we've got them from all over the world," said Elaine Humphrey, manager of UVic's advanced microscope facility. "Even people who have access to high-resolution microscopes already, who can't quite get the resolution they want, want to come here."
The goal is to keep fees as reasonable as possible for outside users such as academics or commercial representatives, said Humphrey, who credited Herring with getting the wheels in motion for the university to obtain such an impressive piece of equipment.
"He went after the money from the Canadian Foundation for Innovation, and then he got matching funds from the B.C. Knowledge Development Fund.
The university put in about a million dollars, and then Hitachi put in an in-kind contribution of an undisclosed amount."
UVic, the Canadian Foundation for Innovation and the B.C. Knowledge Development Fund contributed a combined total of $9.2 million.
The full set-up of the STEHM, specially built by Hitachi in Japan, won't be complete until the fall.
The basic operation is quite different from conventional microscopes, which use light to view specimens. With the STEHM, an electron beam and holographic functions allow viewing of both the inside and surface of materials to a resolution that is much more refined.
As well, its electron source is about 30 times brighter than existing sources in use.
"We should be able to look at parts of a virus on this microscope," Humphrey said. "It's very exciting, and there's so many things people want to do with it."
The specimens being examined will apply to a range of fields like electronics, fuel-cell technology, medicine and construction.
The microscope is as sensitive as it is large, and could be affected by something as benign as a passing cloud.
That's why it's in a purpose-built, temperature-controlled room designed to minimize vibrations, Humphrey said.
The room is anchored to bedrock and features an outer layer with 20 centimetres of insulation pressed between sections of galvanized steel.
jwbell@timescolonist.com
We thought you might also be interested in..
Notice
: Undefined index: event in
/home/viccity/public_html/v2/content.php
on line
67