Turn on the tap to quench your thirst
May 27 2012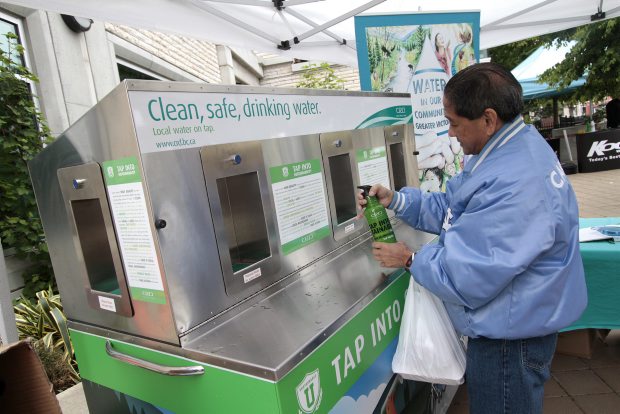 Danny Cecilio fills a bottle with CRD tap water from its cart at Centennial Square.
Photograph by:
Lyle Stafford , timescolonist.com (May 2012)
Water and sustainability make a perfect pair, as far as the Capital Regional District is concerned.
The CRD is making the point with the debut of its water cart. The cart will be making the rounds of festivals and other community events throughout the summer to send the message that local tap water in a reusable container is the best thing going to quench your thirst.
The focus of the program is the Tap into Sustainability Pledge, which calls on the public to drink only local tap water when they need some aqua pura. The first 500 people to take the pledge will be given a stainless-steel water bottle that can be filled from the cart.
Former CRD Water Commission chairman Nils Jensen said one aim of the summer program is to reduce the use of plastic water containers. Program staff also tout the economics of drinking tap water - it's only about a penny a glass - and point out that local water is expertly tested and regulated.
"It's a great initiative," Jensen said. "One of the strategic priorities for the CRD is sustainability, on so many fronts."
Water issues in general will soon be emerging in the coming weeks as warmer weather hits, he said.
"When you have long, sustained periods of a dry spell, that's when people really appreciate the availability of water."
Annual conservation measures are already in effect, Jensen said. The first stage began May 1 and more measures will follow through Sept. 30.
CONCERTS FUND CHILDREN'S CHOIR
The Arbutus Singers take to the stage this week for two concerts to support their ChoirKids program.
The choir has more than 65 members under the direction of Jack Boomer. The What a Wonderful World concerts take place Friday and Saturday, both at 7: 30 p.m., at First Metropolitan United Church.
ChoirKids groups will also be performing and opera talent Bernard Turgeon will be a guest vocalist.
Boomer said the choir is proud of its communityfocused efforts since forming 14 years ago, with more than $100,000 having been generated for initiatives like ChoirKids. The Telus Victoria Community Board has just presented the Arbutus Singers with a $10,000 grant, and Boomer noted that the Victoria Foundation has granted more than $24,000 in the past five or six years.
ChoirKids offers the benefits of a choir experience to elementary-school aged children from all walks of life.
"When you mix kids and music, and kids who don't have the opportunity, what better way to build a community than to have kids engage in something like this."
Tickets are $15 for adults, $10 for seniors and students, and $25 per family, and are available at the door or by calling 250-727-9146.
PEARSON DIRECTOR GETS ON HIS BIKE
Pearson College director David Hawley will put distance between himself and his campus Monday as he begins a cycling trek to Haida Gwaii, then across the country and on to Wales.
Hawley sets out on his four-month, 10,000-kilometre journey at 10 a.m. from Pearson and will end at the United World College of the Atlantic in Wales, one of Pearson's sister schools. He expects to reach St. John's, N.L., sometime in August, and after a transatlantic flight will be back on the bike with plans to be at the Welsh school in time for its 50th-anniversary celebrations in September.
Hawley, 54, will be cycling across the continent for a second time, having accomplished the feat once before in 1977 with a ride from Boston to Vancouver.
While the ride is not being done as a charity effort, Hawley welcomes donations to either the Pearson scholarship fund or to help replace the college's fleet of 12 communal bicycles. Pearson has 160 students from 90 countries, all attending on full scholarship. His blog is at crosscountrycyclist.com.
Also on the cycling trail, six local runners preparing for a ride in honour of their coach are looking for a support vehicle.
Daniel Ethier said the group is making the journey from Victoria to Los Angeles to raise funds and generate awareness for multiple sclerosis. Their coach, Jim Finlayson, had MS diagnosed in 2009 but has kept up with his running despite some setbacks.
Ethier said he and his fellow riders are looking for something like a four-door truck with a cab that could be used for 20 days. Call him at 250-896-0675.
DOGS AND THEIR OWNERS MEET UP
Citizen Canine is staging its annual community celebration of responsible dog ownership on June 3.
The advocacy group's ninth annual Everybody and their Dog Walk takes place in the field at the entrance to Beaver Lake Park.
The walk starts at 11 a.m., but festivities run from 10 a.m. to 2 p.m. and include doggy contests such as best dressed, best trick and fastest eater.
jwbell@timescolonist.com
We thought you might also be interested in..
Notice
: Undefined index: event in
/home/viccity/public_html/v2/content.php
on line
67