After big win, what Ryder Hesjedal plans to do next
May 29 2012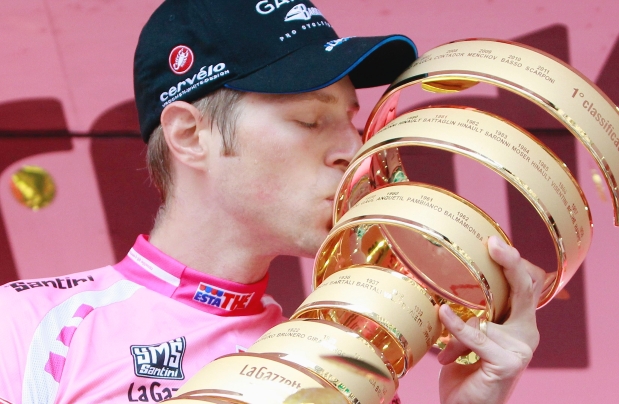 Ryder Hesjedal of Canada kisses the trophy on the podium after the 30-kilometre time trial in the 21st and last stage of the Giro d'Italia cycling race in Milan on Sunday.
Photograph by:
ALESSANDRO GAROFALO , REUTERS
To read more about Ryder Hesjedal click on the links to the upper right, under More on this story
To view photos, click here
——————
It's like being the player who scored the Stanley Cup-winning goal in overtime.
That's how Ryder Hesjedal of Victoria is being hailed across cycling crazed Europe after winning the Giro d'Italia. And there's plenty of Ryder pride in Canada, too, especially in hometown Victoria, after Hesjedal became the first Canadian to win a Grand Tour event.
Hesjedal captured the 2012 Giro d'Italia by just 16 seconds, with a tension-laced finish in the final-stage time trial Sunday through the ancient, narrow, twisting streets of Milan, Italy.
Now the question is whether Hesjedal will compete in the Tour de France, which runs June 30 to July 22, and in the 2012 London Summer Olympics road race July 28 and time trial Aug. 1.
Not every Giro winner rides in the Tour. Only seven cyclists have won the Giro and Tour de France in the same year, the last being Marco Pantani of Italy in 1998. It's a demanding double.
"It's up to me what I want to do and if I want to take on the Tour de France," said Hesjedal. "I've just won the Giro. I want to let my body recover before I address that. I'll see how my body reacts after a tough three weeks."
We thought you might also be interested in..