Minister hears views on seniors' advocate office
May 30 2012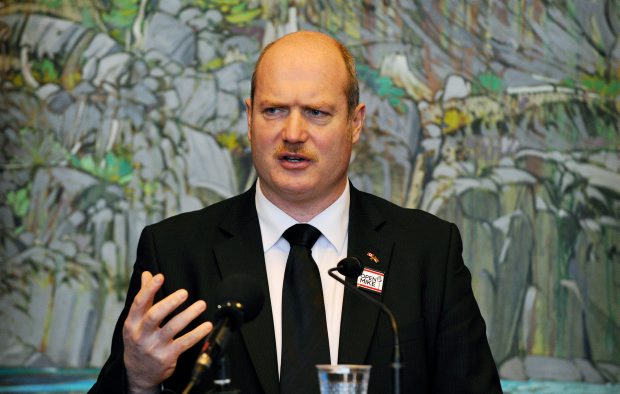 Mike de Jong, seen here in a file photo from 2011, said he agreed an advocate office should be independent.
Photograph by:
Postmedia News , timescolonist.com (May 2012)
Seniors groups from southern Vancouver Island gave Health Minister Mike de Jong an earful Tuesday about the province's plans to create a new seniors' advocate office.
De Jong launched the first of 10 public consultations by meeting with almost a dozen organizations at the Ambrosia event centre in downtown Victoria.
The feedback, he said, would be used to help shape the advocate's powers and responsibilities when the government finalizes legislation later this year.
In general, the office is supposed to help protect seniors from abuse and exploitation by helping them solve complaints, while proactively dealing with seniors-related issues.
"You are kicking off a unique exercise," de Jong told the audience. "This has never actually been done before in this way."
Those invited weren't shy in expressing their opinions.
"I'm concerned if this seniors' advocate is not an independent advocate it will be another kind of butter between you and seniors," Wendy Strong, chairwoman of the South Island Health Coalition, told de Jong.
The office should be similar to provincial Ombudsperson Kim Carter, who released an exhaustive report into seniors issues in February, and who is free from government interference, said Strong.
Carol Pickup, who cofounded the health coalition, told de Jong the seniors' advocate should be similar to B.C.'s Representative for Children and Youth, Mary Ellen Turpel-Lafond.
"The mandate of this position, as far as I'm concerned, needs to cover a lot of territory," she said.
De Jong said he agrees on the need for independence, but that it's possible the seniors' advocate might need even broader powers than independent officers of the legislature, like the ombudsperson and children's watchdog, who are limited to government related issues.
De Jong said he'd like to see the office have a consumer protection role as well. He cited the case of Ricky Spooner, a 100-year-old Sidney veteran who struggled for months last year to get an $8,000 deposit back for a private care home in Victoria after his wife died before they moved in. Eventually, after an order from Consumer Protection B.C., he got some of the money back.
The new seniors' advocate office needs to be easy to use and not redirect seniors to the internet or multiple-choice phone centres, said Bridey Morrison Morgan, outreach facilitator at Silver Threads.
"Lots of seniors I work with are afraid, afraid to make phone calls because maybe someone would write down their name and treat them differently," she said.
NDP seniors critic Katrine Conroy said the seniors' advocate office could be created quickly if government wanted, and she's worried the consultation meetings might delay legislation for months - and possibly longer if there's no fall session of the legislature.
The only other Island meeting is schedule for Parksville on June 11.
De Jong said he'd like to have consultation done by the end of the summer, with perhaps an interim seniors' advocate being put in place until the legislation passes.
rshaw@timescolonist.com
We thought you might also be interested in..