Baby brings hope to resident orcas
May 31 2012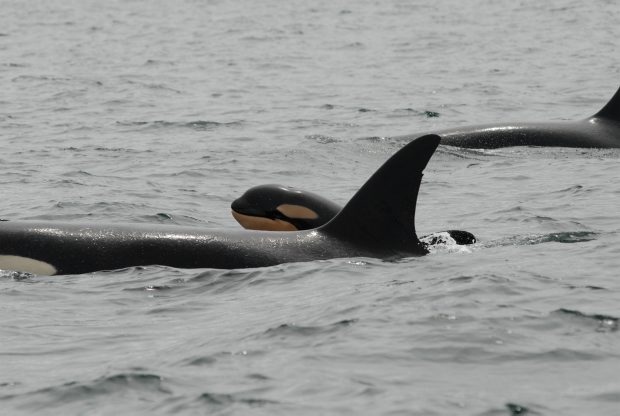 A baby southern resident killer whale raises its head out of the water as it swims with its mother in Juan de Fuca strait this week.
Photograph by:
Centre for Whale Research , timescolonist.com (May 2012)
Glimpses of the pinky-orange folds of a new calf among the endangered southern resident killer whales have given a ray of hope to whale researchers.
The baby, designated L119, believed to be weeks old, was spotted this week when all three pods appeared in Juan de Fuca Strait for the first superpod meeting this year.
"The new calf appeared healthy and vigorous and we are hopeful that this one will make it," said Ken Balcomb of the Center for Whale Research based in Friday Harbor, Washington.
Mother is 25-year-old L77, also known as Matia, who previously gave birth to a calf that did not survive.
"Her previous calf, born in 2010, was only seen for one day and it is not known whether she has had other calves that did not survive," Balcomb said.
However, birth celebrations are being tempered with a tally of the year's losses.
L112, a young female, died in February and her battered body washed up in Washington.
Initially it was thought the whale died because of an underwater explosion or sonar, but, so far, an investigation by the U.S. National Oceanic and Atmospheric Administration and other agencies has not been able to pinpoint the cause of death.
This week was the first opportunity for researchers to see whether there have been other losses over the winter.
"It appears there may be a couple of older females missing from L Pod," Balcomb said.
The two were not seen this week, but L Pod has now disappeared off the west coast of Vancouver Island, so nothing can be confirmed until they reappear, he said.
It also looks as if JPod has lost a young male, Balcomb said.
J30, a 17-year-old, has not been seen since December.
If all three are missing, it means the population is down to about 83.
"It isn't improving. It has been wobbling around that number for a decade," Balcomb said.
Recovery plans have pinpointed declining supplies of chinook salmon, noise and pollution as probable causes of the population's failure to recover from decades of hunting and aquarium captures.
Fisheries and military activities must be addressed if the population is to grow, Balcomb said.
It is likely the whales appeared early this year because of a spring chinook run, he said.
"They eat some and then they leave because they know not to eat them all. Not like us," Balcomb said.
"If you manage for the health of the top predator, you have a healthy system. That's not really heavy thinking. It's the concept nature uses," he said.
jlavoie@timescolonist.com
We thought you might also be interested in..