Resolution sought over hospital ban
Jun 01 2012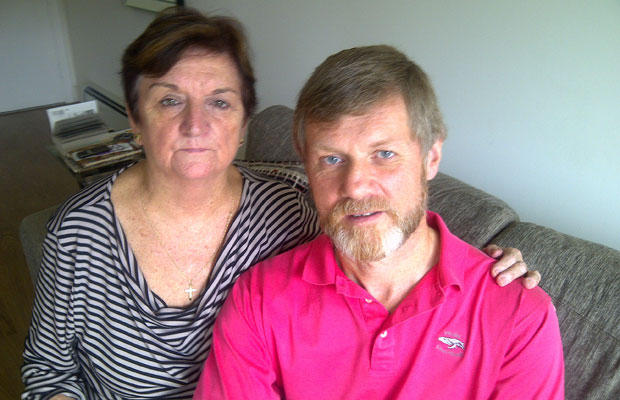 Shirley Spence and Andrew Regan. Regan visits Spence's son everyday but she is not allowed to enter the hospital.
Photograph by:
Submitted photo , timescolonist.com (June 2012)
The partner of a 73-year-old mother, banned from visiting her critically ill son in Victoria General Hospital after she said she "tapped" a nurse on the head to get her attention, says he is now terrified to accidentally brush by a nurse.
Briton Shirley Spence, who flew to Victoria from South Africa after her son fell critically ill from a brain hemorrhage in April, has been banned indefinitely from seeing her son, Gary Abbott, 52, since the middle of May.
Spence said she had used a "tap" of a forefinger, from across her ailing son's bed, to alert the nurse on the other side not to upset him by asking about his financial matters.
She and the hospital differ on whether it was a "tap" or a "whack".
No harm or aggression was intended, Spence said. She apologized verbally and in writing.
"They are saying touching is the offence," said Spence's partner, Andrew Regan. "It is very hard to believe you can touch someone and have it interpreted as violence.
"Her [the nurse's] view vastly differs from ours," said Regan. He visits his stepson in hospital every day. "I am very selfconscious now. I actually put my hands in my trouser pockets or behind my back".
The nurse told her bosses the physical contact was violent.
"The nurse says she was smacked on the head and characterized it as an assault and we have to act based on that," said Vancouver Island Health Authority spokeswoman Shannon Marshall.
"We are doing everything we can to facilitate a visit sooner rather than later. [We have] complete understanding and compassion for Mrs. Spence. But we also have to have compassion and understanding for our staff."
The Ministry of Health has consulted with VIHA "senior officials" who are trying to resolve the issue. "We need to balance our commitment to protect our staff with compassion and sensitivity to family members when they are experiencing the stress of a loved one's illness," said ministry spokeswoman Michelle Stewart.
Regan was present during the incident on May 17. VGH sixth-floor manager Sandra Drew, who first banned Spence, declined his testimony.
In a May 18 letter, Drew explained: "The perception of the staff is one of the key criteria considered in determining what is intimidating or violent behaviour, regardless of what your stated intention may be."
Lesley Moss, VIHA Occupational Health and Safety executive director, said a risk assessment meeting was held May 22. Five people attended, including the nurse and her union steward.
Spence and Regan were not invited. An independent arbiter is required, Regan said.
The nurse has been seriously injured by a previous patient in the past and having Spence around could further traumatize her and her colleagues, Moss said.
"I think it's the psychological harm that's been on the staff from this situation," Moss said.
Violence is the second leading cause of injury for healthcare workers next to musculoskeletal injury, the B.C. Nurses Union said.
VIHA has not broached the issue of whether it was ethical for the nurse to inquire about a patient's banking matters when the patient was unable to comment.
ceharnett@timescolonist.com
We thought you might also be interested in..