Hunter accused of shooting at grizzly bear near lodge
Jun 03 2012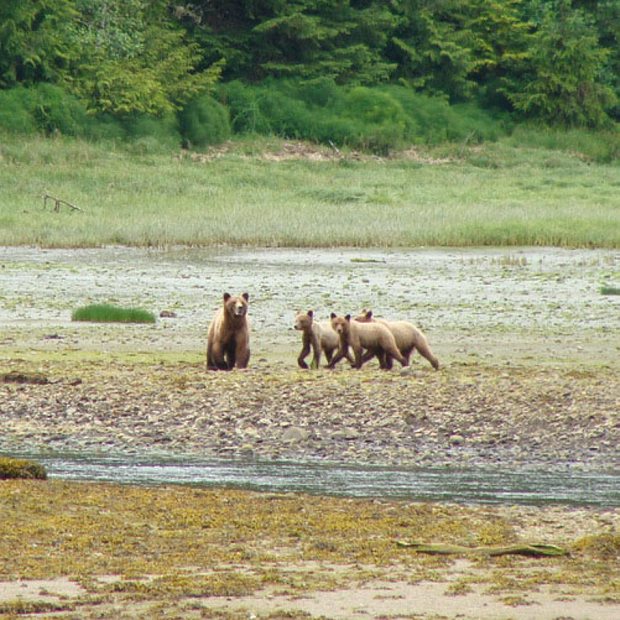 A grizzly bear with cub in front of the Forward Harbour Lodge.
Photograph by:
Martin Minty , timescolonist.com (June 2012)
A trophy hunter who tried to shoot a grizzly bear in front of a fishing and wildlife-viewing lodge put lives at risk, says the son of the lodge's 80-year-old owner.
Grizzly bears often lounge around on the beach in front of Forward Harbour Lodge and are watched by owner Isabel Hindbo and guests who rent the rustic cabins.
Last Tuesday, a licensed hunter turned up at the dock in front of the lodge and asked if it would be all right to shoot one of the bears on the beach, said Hindbo's son, Marv Minty.
"I explained that we are a licensed tourist lodge and the owner . . . did not like the idea at all and could he please find somewhere else to hunt," Minty said.
"Disregarding our request, he returned, shooting and probably leaving a large, wounded, pissed-off grizzly for two disabled seniors and an 80-year-old woman to deal with."
The hunter said he fired two high-powered rifle shots into the bear from about 100 metres, but then could not find it and left two hours later without establishing whether the bear was injured, Minty said.
"As he was leaving he said 'I don't know how I could have missed,' " Minty said.
Under provincial rules, a hunter cannot discharge a firearm within 100 metres of a building — about the distance from which the shots were fired — and the hunter was on Crown land, not private property.
Under the Wildlife Act, if someone kills or injures an animal they must make every reasonable effort to retrieve it.
Forward Harbour is on the Central Coast, but can be reached only by boat from Sayward or by float plane from Campbell River.
Minty reported the shooting to Sayward RCMP and conservation officers.
The matter is under investigation, said Sayward RCMP Cpl. Rod Pick. "A grizzly bear can be quite aggressive and an injured bear is more likely to go into the community where there's an easier food supply," Pick said.
"Most responsible hunters will go to extreme measures. If they believe they have shot an animal, they will do their best to track it down and find that animal," he added.
However, Hindbo believes the 500-kilogram grizzly might have escaped the bullets as a similar bear reappeared on the beach the next day.
"He didn't seem to be hurt, but he was very agitated the next day. He was running around and wouldn't settle down. He seems to have settled down now," she said.
The bears have never bothered Forward Harbour residents, but, when new people arrive, they usually disappear into the woods for a couple of days, Hindbo said.
The hunter watched the beach for a day, Hindbo said.
"Then at 5 a.m. the next morning, he kayaked on to the beach and snuck into the trees and fired two shots," she said.
Hindbo said she is not against all hunting and some family members hunt deer for food.
However, she cannot understand why someone wants to shoot grizzlies.
"I don't see any sense to that. Live and let live," she said.
The spring grizzly bear hunt runs from April 1 to May 31 in the Vancouver Island region, which includes the Central Coast.
The province estimates there are 15,000 grizzly bears in B.C., but the number is disputed by groups opposed to the trophy hunt.
This year, 3,716 tags were issued for the spring and fall hunts. Last year, 3,773 tags were handed out.
In both 2009 and 2010, just under 3,000 licences were issued.
An average of 300 bears are killed each year by legal hunters.
Chris Genovali, executive director of the Raincoast Conservation Foundation, said coastal grizzlies are often sitting targets.
Allowing the hunt "is not only anachronistic from a wildlife management perspective, it is ethically deplorable as well," he said.
"Killing these magnificent animals for sport, trophy and profit has no place in today's society."
jlavoie@timescolonist.com
We thought you might also be interested in..
Notice
: Undefined index: event in
/home/viccity/public_html/v2/content.php
on line
67