500 moved off ferry at Departure Bay after bomb threat phoned in
Jun 03 2012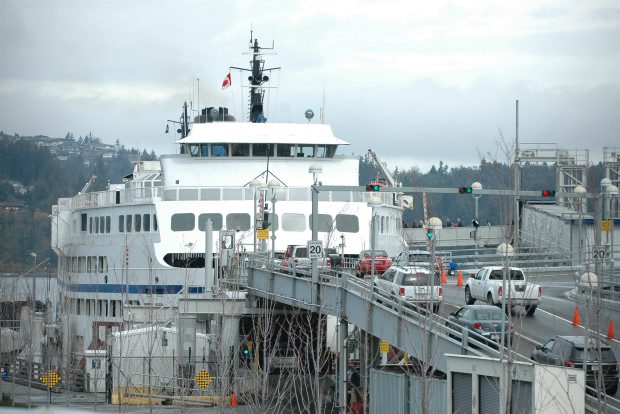 A file photo of Departure Bay ferry terminal from April, 2012
Photograph by:
Krysta Bryce , Nanimo Daily News
Passengers aboard a ferry at Nanaimo's Departure Bay terminal were rushed off the ship after a bomb threat Saturday.
The Queen of Coquitlam was nearly full for the 3.10 p.m. sailing to Horseshoe Bay when the threat was phoned in.
Crews evacuated the ship while RCMP officers searched the vessel, said Ferries spokeswoman Deborah Marshall.
The sailing was cancelled, as was the 5:20 p.m. sailing in the opposite direction. Approximately 500 ferry passengers were taken to the Beban Park auditorium, said Nanaimo RCMP Sgt. Sheryl Armstrong.
B.C. Ferries said the 3:10 p.m. sailing from Horseshoe Bay was re-routed to Duke Point for off-loading instead of going to Departure Bay as originally scheduled.
"The RCMP dogs were on the ship to make sure it's clear before anyone goes back on," Marshall said.
Police carried out a thorough sweep of the Queen of Coquitlam with one sniffer dog from Nanaimo RCMP and another from a canine screening company contracted by B.C. Ferries. Nothing was found and police cleared the vessel to sail, Marshall said. It was due to leave at 7:30 p.m.
"We certainly apologize to our customers for the inconvenience, but safety is our first priority and we have to thoroughly check these things out," Marshall said.
We thought you might also be interested in..
Notice
: Undefined index: event in
/home/viccity/public_html/v2/content.php
on line
67