Baron of Beef rules Oak Bay's big bash
Jun 04 2012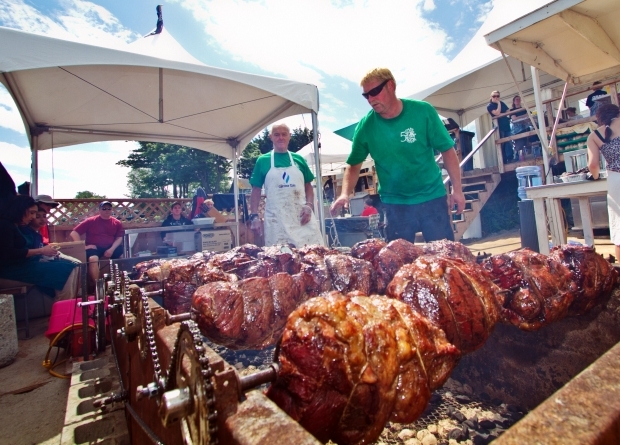 Rob Westfall, right, and Bill Westfall prepare roast beef at the Oak Bay Tea Party at Willows Beach on Saturday.
Photograph by:
Darren Stone, Victoria Times Colonist , timescolonist.com June 2, 2012
A simple roast beef sandwich has become a must-have at the Oak Bay Tea Party, but making 4,500 of them for the two-day festival is far from easy.
Package after package of the Baron of Beef sandwich were handed to customers on Saturday along the shores of Willow Beach. It's a plain deli item on a Kaiser bun, but it's a fan favourite on the festival grounds.
Ken Beattie, who returns every summer, can't imagine the festival without it. At 53, he figures he's been coming for 40 years.
Going to the tea party without the Baron of Beef would be like going to the movie theatre without popcorn, he says. It just wouldn't be right.
"It's the main reason why I come," he said, sitting down at a picnic table with two sandwiches and a can of soda. "I love the event, but it wouldn't be the same without it."
Food is an important component to any festival, say organizers and visitors celebrating the Tea Party's 50th year this weekend.
About 10,000 visitors are expected to hit the festival over the weekend, said Sandy Germain, secretary of the Oak Bay Tea Party Society.
Saturday's festivities began with a pancake breakfast, a parade through Oak Bay's shopping centre and a host of events on the beach, including a search-and-rescue demonstration and paddle-board yoga.
Yoga on the water is a new trend taking off on North America's west coast, said Laura Graves of Bloom Yoga, one of three yoga instructors who have partnered with Pacifica Paddle Sports to offer the service on Vancouver Island. The group will offer yoga sessions in Brentwood Bay.
"It's all come together in the last few weeks," said Suze Willgren, another instructor. "We've been playing with the postures we can do on the boards."
Sandy beaches and a sunny ocean view made for the ideal backdrop for the Tea Party. Thrilling carnival rides and live music kept families busy on Saturday, but few people were as busy as those in the food tents.
When the two-day festival wraps up, vendors will have handed out 500 cobs of corn dripping in butter, about 600 cups of steaming tea, probably far more than 3,000 scoops of ice cream and, of course, the 4,500 sandwiches.
Making that many Baron of Beef sandwiches requires a lot of work. Organizers order about 880 kilograms of beef, or about 100 roasts. Twenty of them at a time are slowly barbecued above a bed of coal.
Each roast is strung together on five metal rotating rods that are hooked up to a pulley system of gears and turned by a long bicycle chain powered by a small electrical engine.
Rotating shifts of volunteers slap together the Barons, adding lettuce, tomato, mayonnaise, mustard and relish.
"It's a pretty typical roast beef sandwich, but the proceeds go toward this event, so it's a good cause," said Mike Davies, walking away from the festival grounds with his unwrapped Baron in hand.
dspalding@timescolonist.com
We thought you might also be interested in..
Notice
: Undefined index: event in
/home/viccity/public_html/v2/content.php
on line
67