Have a whale of a time on the Gorge
Jun 04 2012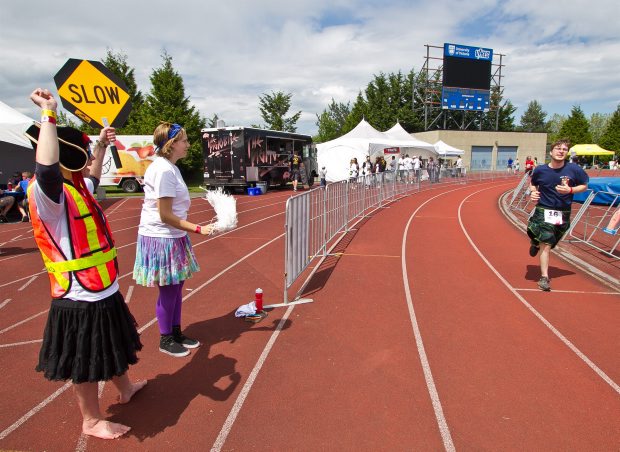 Larissa Korns, left, and Darby MacWilliam cheer on a participant in the 18th annual Vancouver Island Money Mart Easter Seals 24-hour Relay for The Kids at Centennial Stadium Saturday.
Photograph by:
Darren Stone , timescolonist.com (June 2012)
Look for a huge pod of whales heading down the Gorge waterway next weekend.
Granted, they'll be whales of the yellow, plastic variety - part of the second annual Whale Derby supporting Boys and Girls Clubs. Funds raised will go to the youth organization's after-school programs in Greater Victoria.
More than 4,500 whales are expected to part of the swarm bobbing along on Saturday. The race begins at 1 p.m. and is part of a larger Boys and Girls Clubs event called Wild About Whales, which goes from 11 a.m. to 3 p.m.
Wild About Whales includes ocean-themed games, rides in dragon boats and voyageur canoes, and a concession. Activities are centred in Esquimalt Gorge Park.
Retired Maritime Forces Pacific commander Roger Girouard, honorary chairman of Wild About Whales, called it a "fun, familyfriendly, get-out-and-getsome-fresh-air kind of event."
His background made him a good choice to help with the festivities, he said with a smile. "They came to me because I was a nautical guy and they figured whales and admirals would go together."
Raffle tickets, with numbers corresponding to the racing whales, are on sale. They cost one for $5, five for the $20 Pod Pack or 25 for the $100 Leviathan Pack. The top six whales will win prizes including a $2,200 WestJet voucher, an iPad and a Fender acoustic guitar (complete with lessons). Fot tickets call 250-384-9133 or go online at bgcvic.org/wildaboutwhales.
DIFFERENT VIEW FOR OLD GLASSES
Local support is helping Canada's Third World Eye Care Society make a difference in developing nations.
The society, started in 1995 by a Vancouver doctor, is also part of Volunteer Optometric Services to Humanity. Dr. Neil Paterson of the Oak Bay Optometry Clinic has been to Ethiopia and Nicaragua with the society and is staging a campaign to furnish the group with more glasses for its work.
A proper pair of glasses can make a huge difference in someone's life, Paterson said. The big problem, though, is that a pair of glasses in some countries costs about a year's wages.
"Literally, the glasses cost as much there as they do here," said Paterson.
People in Canada often donate their old glasses to the society, he said, but many of the lenses can't be used, such as individualized progressive lenses.
"It's so finicky to get them aligned perfectly and get the prescriptions perfect, so all we take with TWECS is distance and near - we take single-vision glasses, occasionally a bifocal, not never a progressive."
That leaves optometrists such as Paterson with large numbers of donated frames that don't have appropriate lenses. So he talked to a salesperson from Essilor, a large optical company, which has agreed to donate a pair of lenses to the cause for each pair of glasses sold with Essilor lenses at the the clinic in June.
Clinic staff will put the new lenses into the repository of donated frames. Paterson hopes to have at least 100 pairs ready to ship by the month's end.
ASIAN MARKET SEASON RETURNS
The Chinatown Night Market returns June 20 for another summer of celebrating Asian culture.
The market will be spread over four nights with four major themes. June 20 will focus on the Year of the Dragon, July 18 will laud the popularity of karaoke, Aug. 22 will recognize the Festival of the Sevens (similar to Valentine's Day) and Sept. 12 will mark the Autumn Moon Lantern Festival.
Vendors and entertainers are being sought for the 2012 schedule. A large stage will be in place on Fisgard Street.
"We basically close Fisgard off from the Gate of Harmonious Interest all the way down to Store Street," said marker co-chairman Tony Joe.
Each markets runs from 5 to 9 p.m. For more information, go to the website at chinatownnightmarket.ca.
KEEP FIT FOR FATHER'S DAY
The Safeway Father's Day Walk/Run lines up June 17 at Royal Roads University.
All money raised goes to support The Prostate Centre, a non-profit organization that provides programs and services on Vancouver Island and the Gulf Islands.
The event includes an eight-kilometre walk/run and a three-km family walk. Meet in parking lot No. 3, just below Hatley Castle.
Registration is $35, but the fee will be waived for anyone collecting at least $125 in donations. Register at fathersdayrun.ca or sign up on the day of the event beginning at 8 a.m. Walkers and runners start at 10 a.m.
RAMS SHOW THEIR METAL
The Mount Douglas Rams football team is calling next Saturday Bin Day, when the group will try to fill a Steel Pacific Recycling bin with scrap metal.
The Rams will accept just about anything that contains metal, which will be exchanged for cash as part of Steel Pacific's community fundraising program. So bring your nuts and bolts, bike frames, dryers, stoves, sinks, barbecues, motorcycles and other sundry metal items.
Propane tanks, refrigerators and freezers are just about the only metal objects that can't be collected.
Items are being gathered from 9 a.m. to 5 p.m. in the Mount Douglas Secondary parking lot off Laval Avenue, at the rear of the Gordon Head school. Pickup of metal donations can be arranged until June 15 by calling 778-430-RAMS.
CFB ESQUIMALT OFFERS FREE TOURS
Free public tours of CFB Esquimalt are being offered through August.
Visitors can learn about the workings of the base, home to Canada's Pacific Naval Fleet, via a bus or walking tour. Custom tours can also be arranged.
Base tours offer a chance to take in sights ranging from modern maintenance facilities to buildings from the 19th century.
Bus tours take place weekdays at 11 a.m. until Aug. 24 (except July 2 and Aug. 6) and last about 90 minutes. Meet at Museum Square inside CFB Esquimalt's Naden gate at Admirals and Woodway roads. Once inside the gate, blue lines on the roadway will lead you to the square. Walking tours are on Saturdays at 11 a.m. until Aug. 25 (except June 30 and Aug. 4), and take about two hours. The tours begin at the main gate to HMCS Dockyard, at the end of Esquimalt Road.
Groups wanting a custom tour outside of scheduled times are asked to call 250-363-2595 or email cfbesquimalt@shaw.ca.
Photo ID is required, except for children under 12 accompanied by an adult. Cameras are welcome.
jwbell@timescolonist.com
We thought you might also be interested in..
Notice
: Undefined index: event in
/home/viccity/public_html/v2/content.php
on line
67