Banned mother allowed to visit son
Jun 04 2012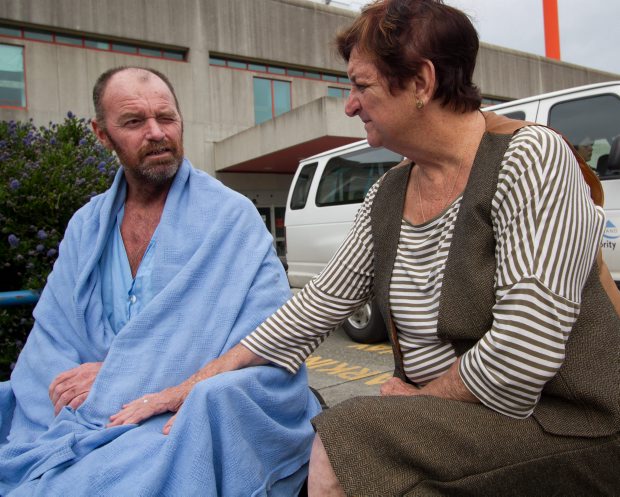 Gary Abbott and his mother, Shirley Spence, outside Victoria General Hospital Friday.
Photograph by:
Darren Stone , timescolonist.com (May 2012)
Vancouver Island Health Authority granted a 73-year-old mother supervised daily visits with her seriously ill son at Victoria General Hospital Friday.
The move came after Shirley Spence was banned from the facility more than two weeks ago after an incident in which she said she tapped a nurse on the head.
The visits between Spence and her son, Gary Abbott, 52, are permitted to be just an hour long. When on the neuroscience unit, where Abbott is being treated, they must be supervised by a security guard.
Their reunion outside the hospital Friday was bittersweet. Spence's anticipated joy was quashed by worry: "I'm just shocked at the way he looks, he looks ill."
Spence, who flew to Victoria from South Africa after her son fell critically ill from a brain hemorrhage in April, had been banned from the hospital since May 17.
It followed an incident in which she "tapped" - or "whacked," according to VIHA - a nurse with her forefinger as she leaned over her son's bed to alert the nurse, on the other side, not to upset him by asking about his financial matters.
The nurse perceived the action as violent and, despite Spence's verbal and written apology, has reported she is "traumatized" as are her colleagues, according to VIHA.
In a statement Friday, VIHA said it deeply regrets the stress the situation caused for the patient and his mother.
VIHA defended its ban based on an inflexible "zero-tolerance policy on emotional, verbal or physical violence." The health authority said it had to make its workers feel protected and supported and it could not deliver proper care if it was understaffed because nurses were off sick or with stress.
Starting Monday, Spence will be allowed to visit Abbott on the neuroscience unit "with appropriate supervision by VIHA staff."
Spence said she finds it embarrassing to be supervised while visiting, but she will take whatever time she can get and has asked that the security guard be plainclothed so as not to alarm her son.
ceharnett@timescolonist.com
We thought you might also be interested in..
Notice
: Undefined index: event in
/home/viccity/public_html/v2/content.php
on line
67