Painterly protest against pipeline
Jun 04 2012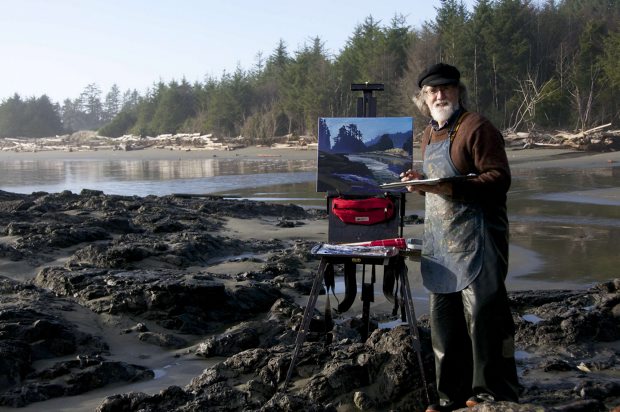 Tofino's Mark Hobson hopes a book of paintings by 50 artists will draw attention to the Northern Gateway project.
Photograph by:
Coastline Art , timescolonist.com (June 2012)
Paintings depicting the magic of B.C.'s coast, from grizzly bears to stormy seas, are about to become heavy artillery in an artistic battle against the proposed Enbridge Northern Gateway pipeline.
Fifty artists, including Robert Bateman, Roy Henry Vickers, Robert Davidson, Carol Evans and Michael Svob, will spend two weeks painting remote coastal locations that could be threatened by an oil spill from the pipeline or from supertankers carrying oilsands bitumen through northern B.C. waters.
The artwork will then be compiled in a coffee-table book, Canada's Raincoast At Risk: Art for an Oil-Free Coast, set for publication next fall. In addition to sales of the book, a travelling art show of the original paintings will raise awareness of the need to protect the coast, said Brian Falconer, marine operations director for the Raincoast Conservation Foundation, the group co-ordinating the project.
"It's a phenomenal project," Falconer said.
"Artists are a bellwether of what is happening in society and for the arts community to be standing up so unanimously on one particular issue is important opposition."
High-end coastal lodges and tour-boat operators are among those hosting the artists during their stays in remote coastal areas.
The overwhelming response shows that opposition to the Northern Gateway pipeline, which would run from the oilsands to Kitimat, comes from mainstream society, not radicals or extremists, Falconer said. "I believe this will make a difference."
Tofino artist Mark Hobson is counting on the art project to help swing public opinion.
"Years ago, I did a similar project with saving the Carmanah and finally it became a provincial park. I think the book was one of the major factors that tipped the balance," he said.
The book, Carmanah: Artistic Visions of an Ancient Rainforest, drew international attention to the Vancouver Island oldgrowth forest, increasing pressure on government to protect it.
Hobson is convinced that when people see images of areas that could be destroyed by oil, they will make their voices heard.
"Many feel, as I do, it will only be a matter of time before incidents like the Exxon Valdez and Nestucca oil spills repeat themselves in this incredible coastal ecosystem," he said.
The Exxon Valdez, a California-bound oil tanker, spilled an estimated 260,000 to 750,000 barrels of crude oil into Prince William Sound in Alaska in 1989.
The Nestucca barge oil spill the previous year near Gray's Harbor, Washington, saw 5,500 barrels of oil drift onto beaches off the Island's west coast.
The proposed Enbridge pipeline is now under environmental review by a federal panel.
Time is tight for bringing the new book together, but the launch is scheduled for November in Victoria, Hobson said.
jlavoie@timescolonist.com
We thought you might also be interested in..
Notice
: Undefined index: event in
/home/viccity/public_html/v2/content.php
on line
67