Victoria joins in royal celebration
Jun 04 2012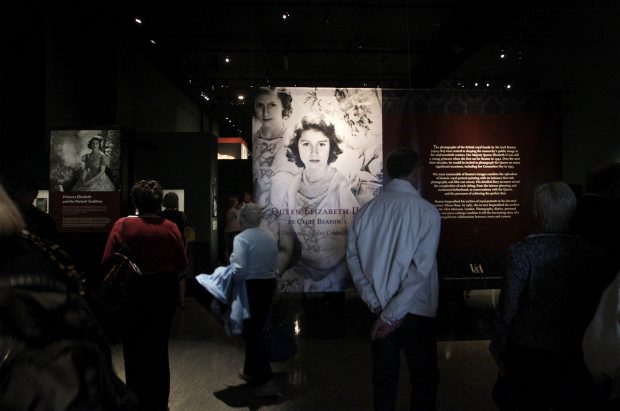 Guests view portraits of the Queen by British photographer Cecil Beaton during a preview at the Royal B.C. Museum Thursday. The exhibition to mark the Diamond Jubilee begins today.
Photograph by:
Lyle Stafford , timescolonist.com (June 2012)
Shortly after he was sworn in as B.C.'s lieutenant governor, Steven Point met the Queen at Buckingham Palace. Point said the Queen gave him one piece of advice that stands out.
"She said 'Don't let them work you on Sunday, dear,' " Point said, laughing.
The Queen's 60th year on the throne is being celebrated around the globe this weekend.
Victoria is no exception, said Point.
Government House will present Diamond Jubilee Medals to worthy Canadians throughout the year. A total of 60,000 medals that recognize contributions to communities will be given out in Canada.
"She's been the connecting force, the common factor, the bedrock on what our constitution is based," Point said.
Government House has been preparing celebrations for three years. The federal government expects a $7.5-million price tag for national celebrations, which include a $2-million chunk for local events.
Along with medal ceremonies, Government House will hold a naval ball on Saturday night. It will replicate a similar ball that took place in 1897, the year of Queen Victoria's Diamond Jubilee.
Diamond Jubilee celebrations in London are far grander. A 1,000-boat flotilla complete with a Canadian canoe, will travel down the River Thames on Sunday.
Closer to home on Sunday, the Fairmont Empress hotel in downtown Victoria will host a royal dog show. The Queen's fondness for her corgis is well known, which inspired the Empress management.
General manager Martin Leclerc said celebrating the Diamond Jubilee was never a question. "We're well known for anything that gravitates around the royals," he said, recalling last
year's 2 a.m. wedding breakfast organized by the Empress to mark the royal wedding. This month has been decreed "royal month at the Empress," he said.
"[The Queen is] well known for having quite the entourage of dogs, and horses as well," he said. "But we can't put on a full derby."
For a $10 fee, anyone can enter a dog in the show. It will be the second royal dog show the Empress has organized.
CAPITAL EVENTS
? Royal B.C. Museum, today to Sept. 3.
Queen Elizabeth II by Cecil Beaton: A Diamond Jubilee Celebration
? Government House, naval ball,
Saturday. The event replicates the 1897 ball held in honour of Queen Victoria's Diamond Jubilee.
? Fairmont Empress hotel front lawn,
Royal Dog Show, Sunday, 2 to 4 p.m. Entries are $10 per dog. Register at thescruffydogbarkery.ca
? B.C. Blooms, June 22 to 23.
A horticultural and flower show that includes a competition, garden tours of the woodlands near Government House for $2 and the sale of plants and vegetables. Admission is free.
cclancy@timescolonist.com
We thought you might also be interested in..
Notice
: Undefined index: event in
/home/viccity/public_html/v2/content.php
on line
67