Bird lovers ask farmer to delay work
Jun 04 2012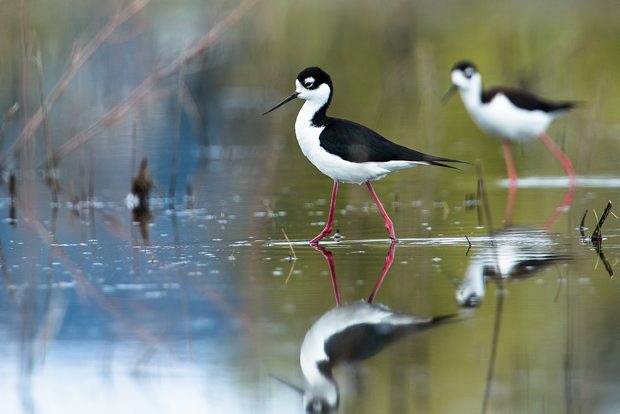 The black-necked stilts nesting at Maber Flats.
Photograph by:
Chantal Jacques , timescolonist.com (June 2012)
A Central Saanich farmer is working with engineers and hydrologists to figure out whether veggies and rare birds can share the same fields.
Black-winged stilts, delicate, long-legged wading birds, are believed to be nesting for the first time on Vancouver Island, on Maber Flats, between Keating Cross Road and Wallace Drive.
However, planting season is in full swing and the seasonal wetland has more water than usual, so owner Brian Bergland was planning to drain the area, something that bird enthusiasts say will drive away the stilts.
"We really want him to postpone doing the work for another six weeks or so," said Michael Simmons, Rocky Point Bird Observatory co-president.
The last time stilts were seen on Vancouver Island was 25 years ago. They have nested successfully in B.C., near Kamloops, only three times previously, Simmons said.
"For the nesting attempt at Maber to succeed, the water needs to remain for at least another six weeks," he said.
Once Bergland was made aware of the stilts, he contacted specialists to see whether some of the water could be drained without disturbing the nest.
"We are working with a couple of hydrologists to see what we can do to facilitate this nesting," he said.
The property, which is usually leased out and grows Silver Rill corn, has become increasingly wet because of Central Saanich diverting water into the area, Bergland said.
"We have been trying to make the property more farmable, so we installed a berm late last year," he said.
"Now we're waiting for feedback from the hydrologists to see if there's a solution."
The high water levels have also attracted other birds not usually seen in the area, such as sora rails and spotted sandpipers, Simmons said. "From a bird's point of view the water has really enhanced it," he said.
Bergland has been gracious in allowing birders on his land to watch the stilts, Simmons said.
jlavoie@timescolonist.com
We thought you might also be interested in..
Notice
: Undefined index: event in
/home/viccity/public_html/v2/content.php
on line
67