Unmanned patrol boats on the navy's radar, says defence minister
Jun 05 2012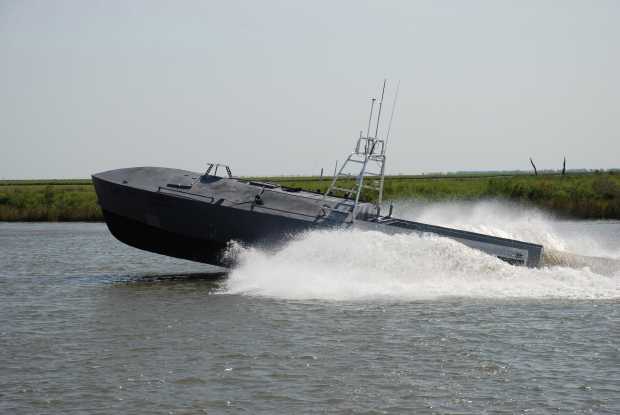 In a photo provided by Textron Inc., the defence contractor demonstrates what it calls its Common Unmanned Surface Vessel (CUSV) technology at the company's New Orleans shipyard on April 12, 2012. The Royal Canadian Navy is exploring options for unmanned ships. Defence Minister Peter MacKay says it's something for the not-too-distant nautical future.
Photograph by:
Textron Inc. , via The Canadian Press/AP
The Royal Canadian Navy is exploring options for unmanned ships, something Defence Minister Peter MacKay says could appear in the not-too-distant future.
The unmanned surface vehicles, or USVs, are the naval equivalent of unmanned aerial vehicles, the remote-control drones that are becoming the weapon of choice for the Obama administration in recent targeted killings of al-Qaeda terrorists.
Technology for USVs is in its infancy compared with the aerial drones, but MacKay told The Canadian Press they could have a role to play in the "near future" of the Canadian navy.
"We're surrounded by water," MacKay said. "Unmanned vessels, like unmanned aerial vehicles, give us reach and capability without the same risk. It allows you to keep harm at a distance. So there's a lot of interest. . . . But it's new technology."
As part of a broader research and development initiative by the Atlantic Canada Opportunities Agency, MacKay recently announced a $3-million grant to Rolls-Royce to help support research into USVs in his home province of Nova Scotia.
"In short, the project will develop technology for automatically conducting refuelling and launch-recovery missions at sea for unmanned surface vehicles," said a May 23 agency statement announcing the initiative.
The commander of the navy says integrating USVs into the fleet is already under consideration, particularly when it comes time to replace current frigates late in the next decade.
"Any technologies, as they emerge, I'm keen to see how we can exploit them to make us better," Vice-Admiral Paul Maddison said in a recent interview.
On the West Coast, Seaspan Marine Corp. has won the right to negotiate $8 billion worth of contracts to build non-combat ships for the federal government. The first vessels constructed will have scientific tasks and work is expected to start in 2013. Seaspan owns Victoria and Vancouver shipyards. Combat vessels are to be built by Irving Shipbuilding at its Halifax yard under $25 billion worth of contracts.
How introduction of roboships would affect plans to replace the manned fleet, as laid out under the Conservative government's shipbuilding strategy, is unclear.
The navy is testing remote technology, with small, unmanned aerial vehicles called Scan Eagles flying from navy frigates.
Over the last couple of years, navy coastal patrol ships have used underwater robots to hunt mines in conjunction with American naval and coast guard exercises. The devices plunge to the ocean bottom and scour for explosives.
"We certainly see it as a useful tool," said Maddison.
He said he is excited that unmanned technology has a potential for growth "not only undersea but on the surface as well."
Use of underwater robots tethered to a mother ship has been common for a couple of decades. But expansion of pilotless aerial technology has allowed military planners to consider adapting it to surface ships.
The Israeli navy currently leads the way in the use of naval drones.
Earlier this spring, U.S. defence contractor Textron Systems demonstrated a remotely operated patrol craft that could, in the company's words, "keep the dull, dirty and dangerous jobs away from our personnel."
Operated through a satellite link, the ships look like an armoured pleasure boat on steroids. They carry a suite of sensors and, like their aerial cousins, have the potential of providing real-time video feeds.
The U.S. navy is considering how to adopt the technology, but has underlined that unmanned surface ships would not be armed, at least at first. Other navies, notably Singapore, have chosen to arm their small fleets in order to protect larger, manned vessels in closed-in waters such as the Persian Gulf.
Canada's navy has struggled to keep its ships crewed. Between 2006 and 2010, the fleet was at times short as many as 276 qualified sailors. That struggle is one of the reasons naval planners are considering crewing new Arctic offshore patrol ships with reservists, as they do with existing coastal defence and minesweeping vessels.
— With Times Colonist file
We thought you might also be interested in..