Sun shines on Victoria for transit of Venus
Jun 06 2012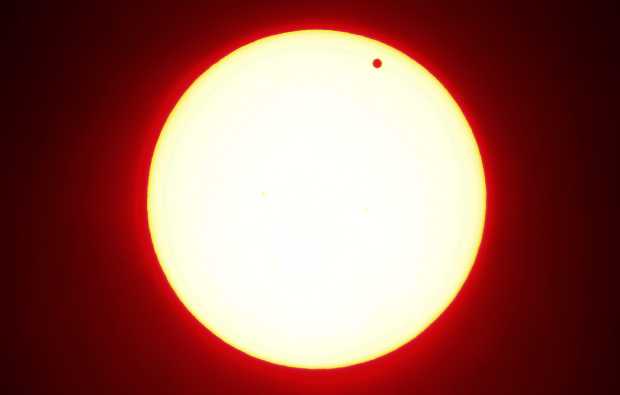 In this photo made using a red filter, Venus appears over sun as red dot at upper right.
Photograph by:
Charlie Riedel, The Associated Press , June 5, 2012
Curious stargazers in Victoria hoping to catch a glimpse of the transit of Venus breathed a sigh of relief Tuesday as the clouds lifted just before the best viewing times began.
"We were quite worried about the weather, and when it broke it was just fabulous," said John McDonald, past president of the Victoria Centre of the Royal Astronomical Society of Canada. "It was better than I expected."
The last-minute disappearance of the clouds over Greater Victoria gave a relatively clear view of the rare celestial event, where Venus passes over the face of the sun as seen from Earth.
The society had viewing stations at the Royal B.C. Museum, Mount Tolmie, Cattle Point and outside Metchosin's municipal hall. There was also a viewing location at the University of Victoria, and Centre of the Universe on West Saanich Road.
McDonald watched the event from Fairfield.
"I was doing sidewalk astronomy here and saw lots of people," he said.
Such a high-profile event helps introduce people to astronomy and show them there's something interesting happening in the sky above them almost every night, said McDonald.
If you missed it, you'll have to stick around for another 105 years for the next such passage.
Transits of Venus happen in pairs, eight years apart, with more than a century between cycles. During Tuesday's pass, Venus took the form of a small black dot slowly shifting across the northern hemisphere of the sun.
Armchair astronomers watched the six-hour and 40-minute transit on the Internet, with dozens of websites offering live video from around the world.
Closeup views from the Prescott Observatory in Arizona, fed into Slooh.com's webcast, showed a small solar flaring in the making just beneath Venus's sphere.
Tuesday's transit, completing a 2004-2012 pair, began at 3:09 p.m. PDT. It was still underway when the sun set in Victoria at 9:12 p.m.
Skywatchers on seven continents, including Antarctica, were able to see all or part of the transit. Even astronauts aboard the International Space Station joined in the spectacle.
It's not all about pretty pictures. Several science experiments were planned, including studies that could help in the search for habitable planets beyond Earth.
During the transit, astronomers planned to measure the planet's thick atmosphere.
We thought you might also be interested in..