Stanley Cup fever grips Island town
Jun 06 2012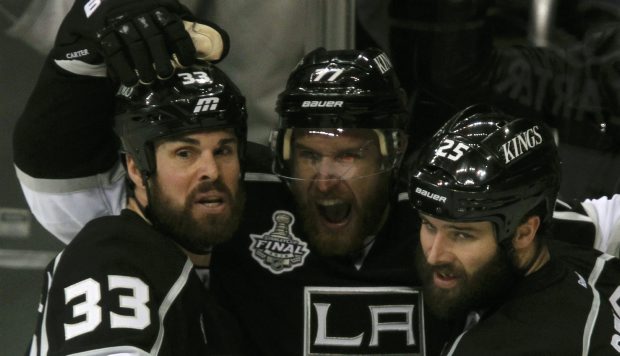 Island native Willie Mitchell, left, celebrates with Los Angeles Kings teammates Jeff Carter and Dustin Penner during Game 3 of the Stanley Cup final on Monday.
Photograph by:
Alex Gallardo, Reuters , timescolonist.com (June 2012)
Everyone in Port McNeill is a hockey fan. Everyone also knows hometown hero Willie Mitchell, a defenceman for the Los Angeles Kings.
Tonight, the town will gear up to watch Game 4 of the Stanley Cup final. With the Kings leading the New Jersey Devils 3-0, one more win will give the Kings their first Stanley Cup.
Pubs in Port McNeill will be packed with hockey fans, all TVs tuned to the game.
Gus Baroutis, owner of Gus's Pub, said he's hoping for a full house.
"Everybody is going to have a lot of fun, screaming and yelling," he said.
People will be cheering for the L.A. Kings in a pub decorated wall-to-wall with the paraphernalia of the Vancouver Canucks, Mitchell's team until two seasons ago.
The Canucks had an early playoff exit, losing to the Kings in five games in the first round way back in April.
Mitchell is a strong source of town pride, so the local hockey addiction hasn't suffered.
"Everybody wants to be here watching," Baroutis said.
He added that his son Tasos played hockey with Mitchell as a child, a connection that isn't rare in Port McNeill, a town of 2,700.
Baroutis's message to Mitchell is simple.
"Good luck; bring the trophy home," he said.
Port McNeill Mayor Gerry Furney said he's not assuming the Kings will win.
"A lot of people counting the chickens before they hatch," he said. "I'm waiting until the fourth game."
Furney saw Mitchell, 35, from his hockey beginnings.
"I learned to skate with him, but I was 44 years of age and he was four years of age," he said.
"His dad would bring him [to the rink] and teach him how to skate and have a puck around," Furney said. "Little did I realize that I was skating next to a kid who was going to go a long, long way."
Furney will be watching Game 4 at home and said it has been an added bonus to watch Mitchell in the playoffs.
"We're obviously even more enthusiastic than we already would be," he said
Rob Batho is manager of the Chilton Regional Arena where Mitchell learned to play hockey.
"It's really getting buzzed around here," he said. "People are smiling ear to ear."
Describing Mitchell as a "dedicated young man," Batho said the hockey star was a natural talent who practised day in and day out
"We're just so proud of him," he said. "I really hope he gets a shot at bringing the cup up here. It would be nice if he could skate around with a Stanley Cup in his hands."
cclancy@timescolonist.com
We thought you might also be interested in..
Notice
: Undefined index: event in
/home/viccity/public_html/v2/content.php
on line
67