10 years later, Springer still defies the odds
Jun 07 2012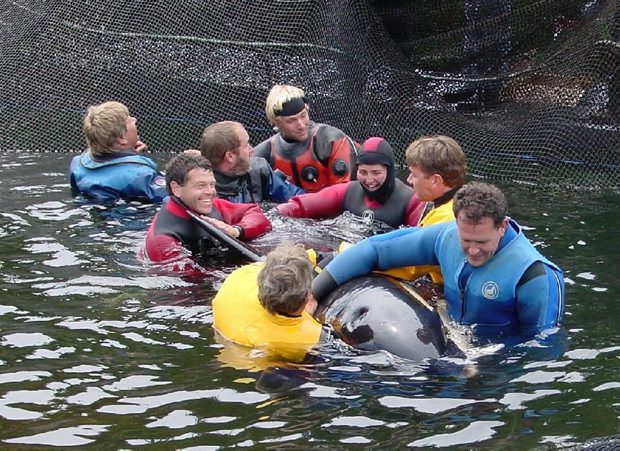 Springer is aided by a Vancouver Aquarium crew that helped to rehabilitate and release the orca in 2002.
Photograph by:
Vancouver Aquarium , timescolonist.com (June 2012)
Springer was an underweight, sickly killer whale calf when she turned up alone in Puget Sound a decade ago and it seemed the chances of successfully reuniting her with her pod on northern Vancouver Island were slim.
But, this month, celebrations are being held in Seattle and Vancouver, with a reunion at Telegraph Cove in July, marking the 10th anniversary of Springer's unique rescue, which saw the orphaned whale brought back to health, transported to northern Vancouver Island and released as members of her pod swam through Johnstone Strait.
Springer, now 12 years old, returns to the area each year and some of the rescuers hope she will soon turn up with her own calf. "It's a little on the early side, but who knows," said Lance Barrett-Lennard, Vancouver Aquarium senior marine mammal scientist.
Until recently, Springer remained shorter than other killer whales her age, probably because she was deprived of mother's milk for about eight months, but she has caught up, Barrett-Lennard said.
Paul Spong of OrcaLab, a research station on Hanson Island, 20 kilometres west of Port McNeill, is often among the first to spot Springer's annual return.
"She was looking really great last year. I wouldn't be surprised if one of these days she turns up with a little one beside her," he said.
Springer and her family have not yet shown up this year, but the northern resident killer whales, which are designated as threatened, usually appear off the Vancouver Island coast in early or mid-July.
Mary Borrowman, an organizer of the Telegraph Cove events, hopes Springer will repeat the grand entrance the whale made on the fifth anniversary of her rescue.
"We hadn't seen her at all that year and we were out in the boat with everyone and I heard all this screaming and she was right there," Borrowman said. "I hope she will be in the area this time."
Springer's rescue involved a complicated network of scientists, government officials, First Nations and community groups.
"There were risks and unknowns every step of the way. In the end, we were successful because we worked as a team," said Will Stelle, northwest regional director of the U.S. National Oceanic and Atmospheric Administration.
Killer whale calves rely on their mothers and extended family for food and protection. A lone calf is unlikely to survive.
Barrett-Lennard initially doubted if the operation would succeed. "It was a long shot. We didn't have much to go on," he said.
"There was no real precedent and she was in such poor condition. Everyone thought it was worth a try, but, if I had to lay odds, it wouldn't have been 50-50," he said.
As Springer responded to treatment in a Washington state net pen, hope emerged, Barrett-Lennard said. "But there were still all sorts of concerns such as whether there was some genetic disease."
The real test came a month later when the onetonne whale was loaded on to a jet catamaran and zipped 400 kilometres north to a holding pen in Dong Chong Bay on Hanson Island.
Less than 24 hours later, her pod appeared and Springer was released. But then the family group swam away from her.
It took another five days before Springer was seen swimming with her second cousin, and, as days passed, she was accepted into the family. "We learned a lot about many aspects of their biological behaviour," Barrett-Lennard said.
The celebration will be held at Vancouver Aquarium June 12, from 7 p.m. to 9.30 p.m. The Seattle program, at the Alki Beach Bathhouse, will be held June 23 at 11 a.m.; the Telegraph Cove reunion will run from July 12 to July 15.
jlavoie@timescolonist.com
We thought you might also be interested in..
Notice
: Undefined index: event in
/home/viccity/public_html/v2/content.php
on line
67