A bid to save voices of history
Jun 07 2012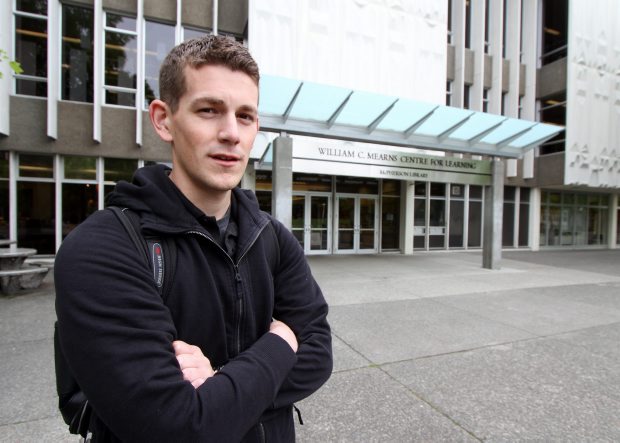 University of Victoria student Daniel Schade is concerned about the cancellation of a military oral history program.
Photograph by:
Bruce Stotesbury , timescolonist.com (June 2012)
It's more than just reading about war from a textbook - students enrolled in the University of Victoria's military oral history program interview veterans about their personal experiences.
Interviews are then submitted to a special collection, which now boasts more than 600 recordings.
But this program won't be running in its usual spring semester slot next year. It's an administrative decision that has been met with disappointment from students and community members.
Fourth-year student Daniel Schade said he wants the university to keep the program running. Each year, eight to 10 students take the course that was started in 2005. Schade and his peers drafted a letter to the administration outlining their concerns.
"It's a labour-intensive course. We get that," Schade said, adding that despite budgetary restrictions, the program's suspension needs to be reconsidered.
A large chunk of the interviews housed in UVic's collection are attributed to the program.
"There are so many veterans willing to talk," said Schade, who is in the Canadian Forces. "There are a lot of young veterans coming back from Afghanistan."
Recording veterans' stories preserves history that could otherwise be lost, he said.
"I spoke with three individuals who flew aircraft through the late '40s and early '50s - for Arctic reconnaissance," he said.
"It's been largely forgotten by history. We just want a commitment to keep it going, that's all we're looking for."
John Archibald, dean of humanities at UVic, said that although the course isn't scheduled to run next year, it doesn't mean it's a permanent decision.
"It's pretty common with smaller classes, to put them on a two-year cycle," Archibald said, adding that the current budgetary climate limits the number of classes that can be offered by departments. "We're delighted that the course is so popular with the students. It does speak to the quality of the student experience and instruction."
In light of the university's decision to suspend the course, the Royal United Services of Vancouver Island has stepped forward to raise funds for the program.
Don Macnamara, RUSI-VI president, said the organization has provided $1,000 in funding each year for the military oral history program. Funds go toward technical equipment such as video recorders, he said.
RUSI-VI has raised more than $2,000 for a course that costs $6,500 to run.
Macnamara said securing funds will be a long-term challenge.
"How is the program going to be sustained over the longer period?" he asked.
Because many of the interview subjects are more than 80 years old, Macnamara said the program's survival is imperative.
Author Mark Zuehlke, who has written historical books that include the Canadian Battle Series, said he's an "intense user" of the military oral history collection. He said the database is a priceless resource for historians who want to understand particular battles.
In the past, interview subjects have been in their 60s to 70s, he said, giving them "relatively fresh memories of events."
"These veteran stories are vital to making the history come alive as personal experience."
The database is one-of-a-kind, he said.
"The interviews span a great breadth of military experience from virtually the entire mosaic of army regiments and arms of service. This is because so many veterans retired to Victoria from all points of the national compass."
Zuehlke said the possible long-term consequences of postponing the program need to be considered.
"By the time the error is recognized, it is often too late to turn things around.
I fear this will be the case here," he said.
cclancy@timescolonist.com
We thought you might also be interested in..