What-to-do-about-deer panel flooded with submissions
Jun 07 2012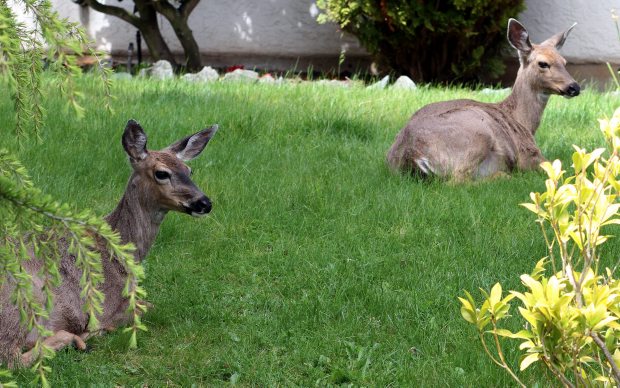 Deer, such as these on a Saanich lawn in May, are a controversial issue in the region.
Photograph by:
Bruce Stotesbury , timescolonist.com (June 2012)
The citizens' advisory group set up to deal with urban deer — one of the most controversial issues to hit the region in years — has been inundated with information and is open to more, its chairwoman says.
The 11-person regional deer management strategy group has had three public meetings and plans to hold three more in June before it starts drafting a report for the regional district with recommendations — which could range from leaving the issue as is to a cull — on how to deal with deer in the region.
"It's such a complex issue with so many facets — it's not something that you can race through," said chairwoman Jocelyn Skrlac.
And she warned that the issue is so complex, with a mix or rural and urban areas in the region, that there will be no "one size fits all" strategy.
"Added to this is the fact that there are [multiple] municipalities which do not all share common bylaws and regulations around some of the issued being discussed," Skrlac said.
The decision on what to be done ultimately rests with the Capital Regional District, which set up the citizens committee to review and distill the issue. The committee was appointed by the CRD from a pool of applicants, with a certain number from each municipality. Commercial farmers and First Nations are also represented.
The CRD says the committee represents the wide range of interests and perspectives there are on the deer issue, but the group has been criticized for having a self-declared "pro-hunting" stance.
DeerSafe Victoria, which advocates against any sort of cull, asked that one committee member identified as a hunter be removed and replaced with a member of their group. However, the CRD said earlier that they had picked a group of people with diverse perspectives with hopes all will be heard at the table.
"Due to the complexity around deer-human interactions in this area, the past few weeks have largely been doing lots of information gathering in order to help the members get a fuller picture of this multifarious issue," Skrlac said.
Members are having a crash-course on black-tailed deer, the animal that has caused concern in the region. For farmers, the deer destroy crops, while for others, they are a traffic concern or a nuisance in the garden. But for many, they are simply part of the environment.
The group has also been gathering information and reviewing how communities deal with deer and other animals, including rabbits and geese.
"We may be able to see things in some of these strategies from communities across North America that give us a glue to come up with strategies that would be appropriate for the deer-human interaction we're dealing with," Skrlac said.
Another public meeting is planned for Tuesday, although the time has to be confirmed. Details will be available later this week on the CRD website.
kwestad@timescolonist.com
We thought you might also be interested in..
Notice
: Undefined index: event in
/home/viccity/public_html/v2/content.php
on line
67