Pelican jetting back to Winnipeg
Jun 08 2012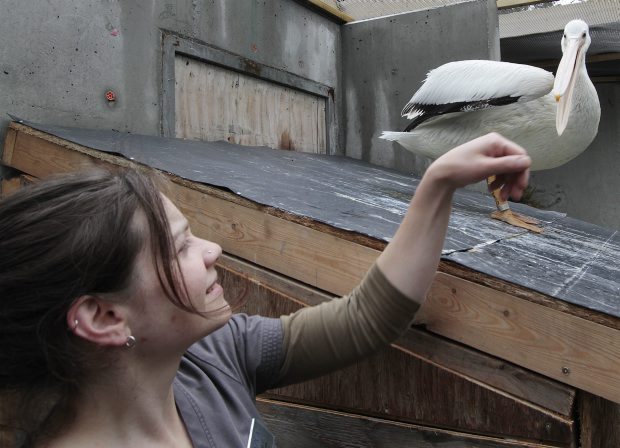 At Wild Arc, senior rehabilitator Christina Carrieres tends to Pelly 26, the wayward Manitoba pelican.
Photograph by:
Lyle Stafford , timescolonist.com (June 2012)
An American white pelican will take off from Victoria today, but will be flying commercial rather than on its own wings.
Upon touchdown in Winnipeg, the three-year-old female will be released into the wild.
The pelican, nicknamed Pelly 26 by staff at the SPCA's Wild Animal Rehabilitation Centre in Metchosin, was shipped here in January from Winnipeg, where it was found with five others from its flock.
Winnipeg is a normal place for the long-beaked, fish-eating birds to spend the summer, but this particular pod stayed too long and was grounded by the oncoming winter.
"They should have been gone at that point," said Christina Carrieres, senior wildlife rehabilitator at Wild ARC.
Pelly was the only bird of the five that didn't have obvious injuries, but she was emaciated, said Carrieres.
Pelly was brought to Wild ARC because of the centre's large flight pen, where birds can exercise, and its large pool. As luck would have it, Wild ARC received a second pelican - a male brown pelican from Prince Rupert, where it had been attacked by crows - and the two birds hung out together.
The birds normally eat live fish but have had to settle for bait provided by a local company. They have both returned to normal weight and are ready to return to the wild.
The male will be released shortly at the waterfront off Metchosin, while Pelly is returning to her pod's summer grounds. It's hoped that next winter, they will make it to the Gulf of Mexico.
The recovery centre is also coping with the annual deluge of orphaned babies. Tiny masked raccoons sleep with their siblings in kennels, their mothers having abandoned them or been killed on roadways. A tiny Steller's jay perches on a peg, the brown feathers of its youth not yet replaced by the deep blue plumage of the mature birds.
Another major development for the centre this week was getting connected to municipal water services.
A legacy gift from an Oak Bay woman allowed Wild ARC to meet its fundraising goals and pay for a water line to its compound on Malloch Road.
For the past 15 years, Wild ARC staff have relied on water from an insufficient well or truckloads brought in to fill holding tanks to serve the 2,000 wild animals it treats annually.
smcculloch@timescolonist.com
We thought you might also be interested in..
Notice
: Undefined index: event in
/home/viccity/public_html/v2/content.php
on line
67